Women-Owned Businesses you Need to Know About
We're here with the final instalment of our 'Your Money Matters' series, and to finish with a bang, we're looking at some of the coolest women-owned businesses around.
From crypto to dating sites, there's plenty of businesses with women at the forefront and we're here to shine a light on 14 that have been recommended by the women in crypto community.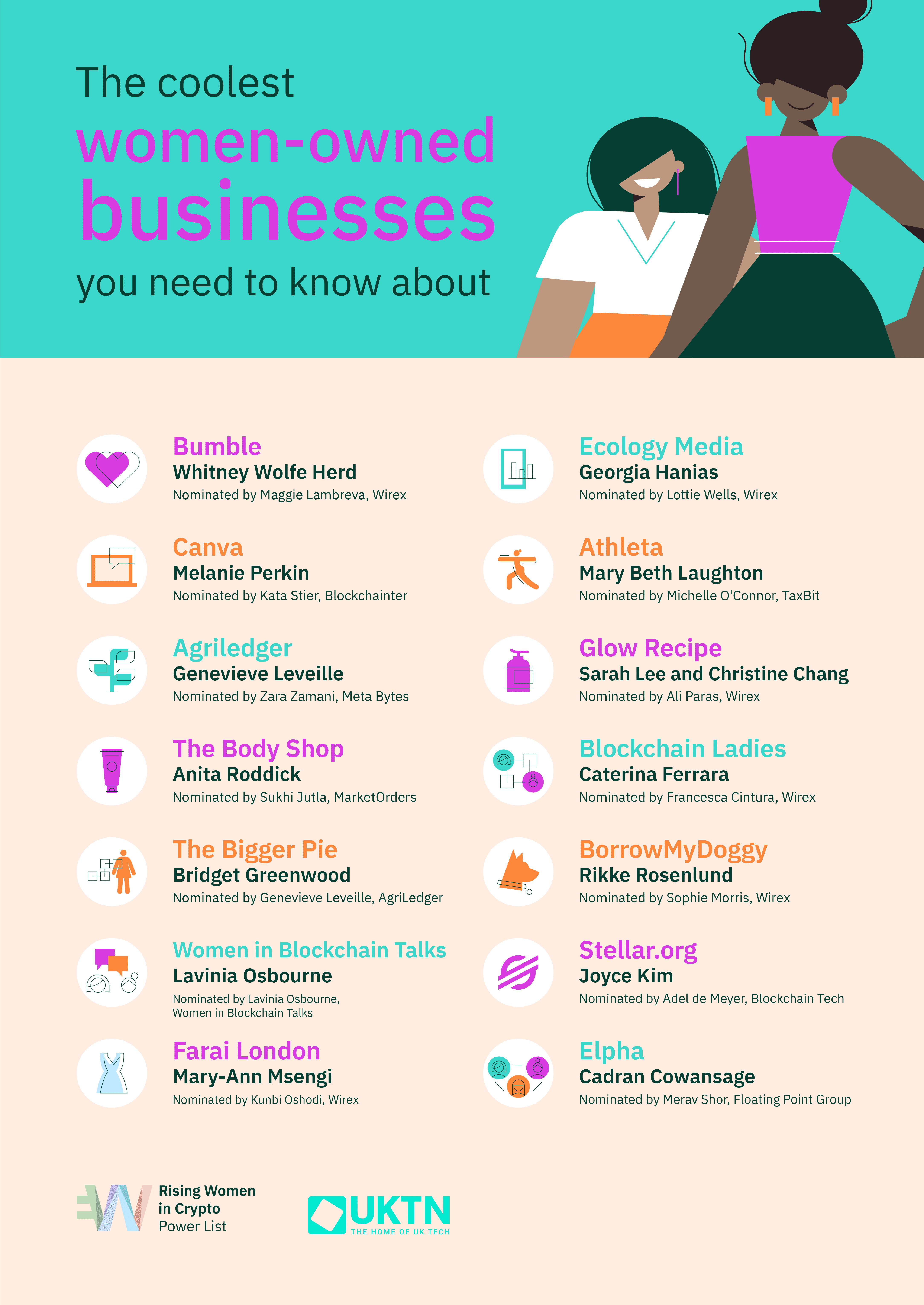 Bumble founded by Whitney Wolfe Herd
Bumble started as a dating app all about women making the first move. With Whitney identifying this need from single women, it's now grown to a larger network allowing people to meet new friends and network on top of swiping right.
Canva founded by Melanie Perkin
Launched in 2013, Canva is an online design and publishing tool with a mission to empower everyone in the world to design anything and publish anywhere. Despite only being 33, she has grown to become one of Australia's richest women.
Agriledger founded by Genevieve Leveille
Agriledger set out to explore the potential role technology will play in shaping the future of agriculture for the better. Genevieve has received many awards recognising her work, including being nominated by the Financial Times to the top 100 BAME in UK technology in 2019, named a winner of the ComputerWeekly 2020 Women in Software, and was one of the top 5 finalists for Quesnay's Female Founders in FinTech in 2019.
The Body Shop founded by Anita Roddick
Founded in 1976, The Body Shop set out to disrupt the typical beauty ideals for women and be a force for good. Opening her first shop in Brighton, Anita was a human rights and environmental activist that wanted to provide good quality skincare products.
The Bigger Pie founded by Bridget Greenwood
With women representing less than 10% of those working in the crypto sector, The Bigger Pie was founded to help businesses in the crypto industry adopt better practices for a more diverse workplace. Bridget was inspired by the important role that of blockchain technology in the future
Women in Blockchain Talks founded by Lavinia Osbourne
Women in Blockchain Talks is an educational and events platform on a mission to share the voices of diverse female leaders in blockchain. Lavinia Osbourne brings her experience as a Financial Wellbeing & Business coach to the Talks to showcase what women are doing within the sector.
Farai London founded by Mary-Ann Msengi
Farai London is a premium womenswear brand designed in East London with a mission is to redefine womenswear to produce adventurous and bold pieces. Despite launching the brand during the pandemic, designer Mary-Ann uses her Zimbabwean heritage and British upbringing to create a unique style of clothing. After Kyle Jenner was spotted in one of her dresses, the brand went viral.
Ecology Media founded by Georgia Hanias
Ecology Media is a brand and communications agency with a focus on emerging technology, fintech and brands that promote diversity and social inclusion. Georgia is an internationally-recognised fintech PR specialist, with extensive experience as both a journalist and on the agency side of PR.
Athleta founded by Mary Beth Laughton
Athleta was founded in 1998 to meet the unique needs of athletic women. Having signed influential women such as gymnast Simone Biles and sprinter Allyson Felix over the past year, the activewear focuses on the fact that these women are people rather than just athletes. Compared to other global sportswear brands, Mary Beth wants Athleta to cater to each of the woman's different needs from a sports wear brand, rather than a one-size fits all approach.
BorrowMyDoggy founded by Rikke Rosenlund
BorrowMyDoggy connects dog owners with trusted local people who would love to look after their dog. Founded with an aim to help dog owners when they need it, give dogs more exercise and playtime and to allow people without a dog to spend quality time with one
Glow Recipe founded by Sarah Lee and Christine Chang
Glow Recipe endeavours to make the best of South Korean skincare accessible and affordable for women across the globe. Skincare fanatics Sarah Lee and Christine Change use their 20 years of experience to bring their passion for natural products to everyday users.
Blockchain Ladies founded by Caterina Ferrara
Blockchain Ladies is an international community of blockchain-lovers, united in combating the often male-dominated fintech and crypto space. Much like our 'Women in Crypto' campaign, the group has the core aim of emphasising the fact that women have huge amounts of talent to offer within the sector.
Stellar.org founded by Joyce Kim
The Stellar network is an open-source internet protocol for money, that facilitates access to financial access anywhere in the world. Similar to Wirex, Joyce Kim created the network as she believes that everyone should have equal access to the global financial system.
Elpha founded by Cadran Cowansage
Elpha is an online community that allows women to openly talk about tech, get advice and expertise for their career, and to find jobs. It's also a space that allows women to network professionally and make like-minded friends. Created by Cadran, she believed in the importance of making it a private space where users must login to view, to foster a safe environment where women feel they can open-up.
So if there's one thing to take away from this, it's that women have the opportunity to get involved in anything and everything, whether you have a passion for crypto or something else. There's a whole range of initiatives and funding out there to recognise women in this sector and give them the support they need, ranging from our very own 'Women in Crypto' initiative, to the recently-launched Barclays & Anthemis 'Female Innovators Lab' supporting female-led fintechs (our very own Lottie Wells just shared her thoughts on it!).
Wirex's 'Rising Women in Crypto Power List'
In case you missed it, we announced that nominations have been opened for Wirex's Rising Women in Crypto Power List 2021! The Power List endeavours to celebrate incredible women in the sector, recognise their achievements, and inspire other women to get involved themselves. We're calling out for individuals to nominate themselves or someone they know, with judging criteria based on their achievements, potential, influence, ambition, leadership skills and innovation.
Think you know someone who deserves some recognition? Whether they're a crypto veteran or a new rising star, we want to recognise women from all around the crypto industry – no achievement is too great or small!