X-Accounts Plus is Now Live
X-Accounts offer an easy way to earn passive income of up to 20% APR on crypto and fiat funds

X-Accounts Plus is a new feature offering users the choice to earn higher interest rates by depositing their funds for a fixed period of time
With 2023 set to be another tough year for inflation, we want to give users new ways to maximise their wealth in the bear market. Now, users can earn even higher interest levels on our passive income earning product, X-Accounts. With the launch of X-Accounts Plus, just by depositing your funds for a short amount of time, you'll automatically receive up to 6% more than before. This makes it easier than ever to effortlessly grow your funds in this bear market.
What is X-Accounts?
X-Accounts is our hugely popular passive income tool that allows users to earn up to 20% APR. It's never been easier to earn unprecedented interest rates on traditional and cryptocurrencies, utilising our industry-leading user interface to provide a convenient way to grow your funds.
X-Accounts gives users the ultimate control. Unlike traditional banks that offer low interest rates, difficult barriers to entry and limits on what you can and can't leave in a savings account, X-Accounts has no fees attached, low minimum thresholds, and the ability to withdraw at any time. Plus, you can open 10 X-Accounts at once to really take advantage of those benefits.
What is X-Accounts Plus?
X-Accounts Plus offers you supercharged interest rates for depositing your funds for a set amount of time.
Our basic X-Accounts product, now known as X-Accounts Flexible, allows you to withdraw your funds at any time. But now, you can choose to deposit their funds in X-Accounts Plus for 30 days to receive premium APR rates of up to 6% extra. As before, these rates vary depending on the asset you deposit, and the X-tras tier membership you have.
It's super easy to claim back afterwards. Once the 30 days has ended, these funds will be unlocked and users rates will return to the lower X-Accounts Flexible rates.
Here's our rates for X-Accounts Flexible: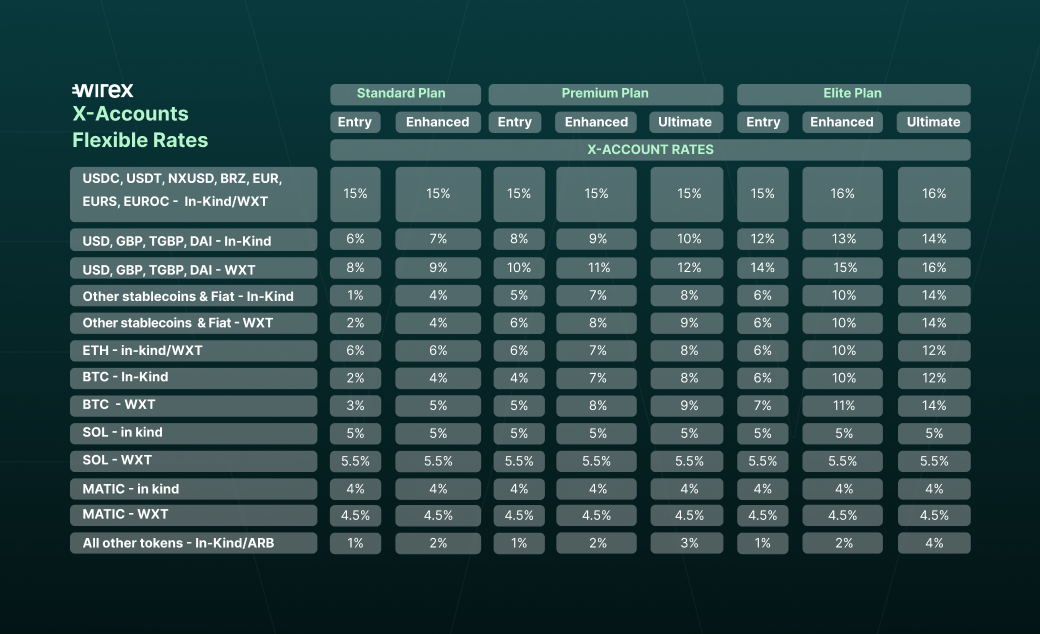 Check out the rates for X-Accounts Plus below: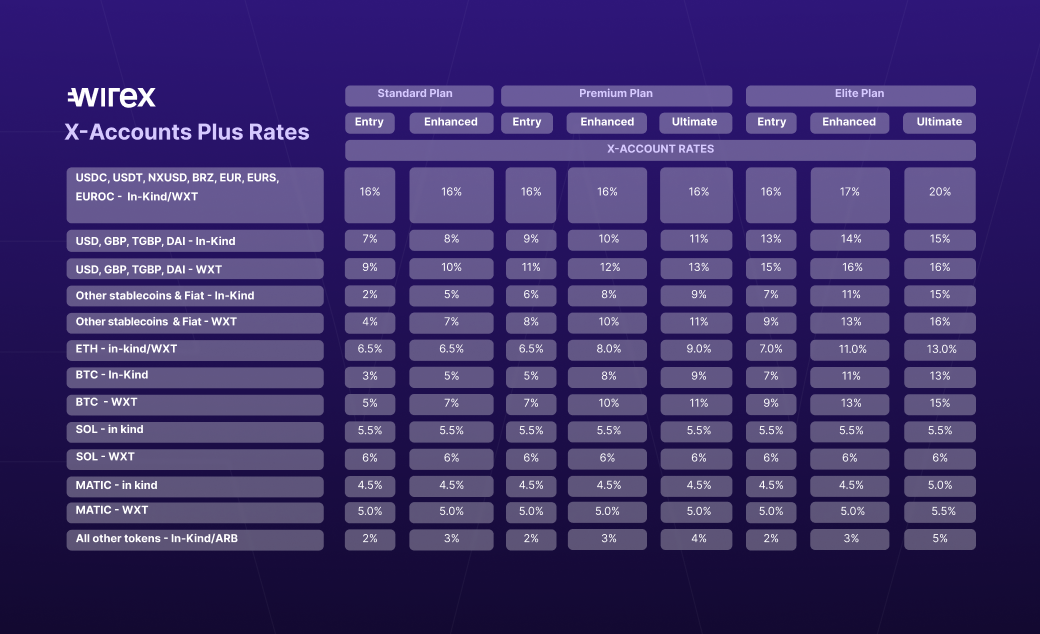 To open a new X-Accounts Plus, simply create a new X-Account in the currency you choose. You'll then be given the option to choose between Flexible, and Plus with supercharged rates. And if you choose to receive your interest back in WXT, you'll receive even high APR!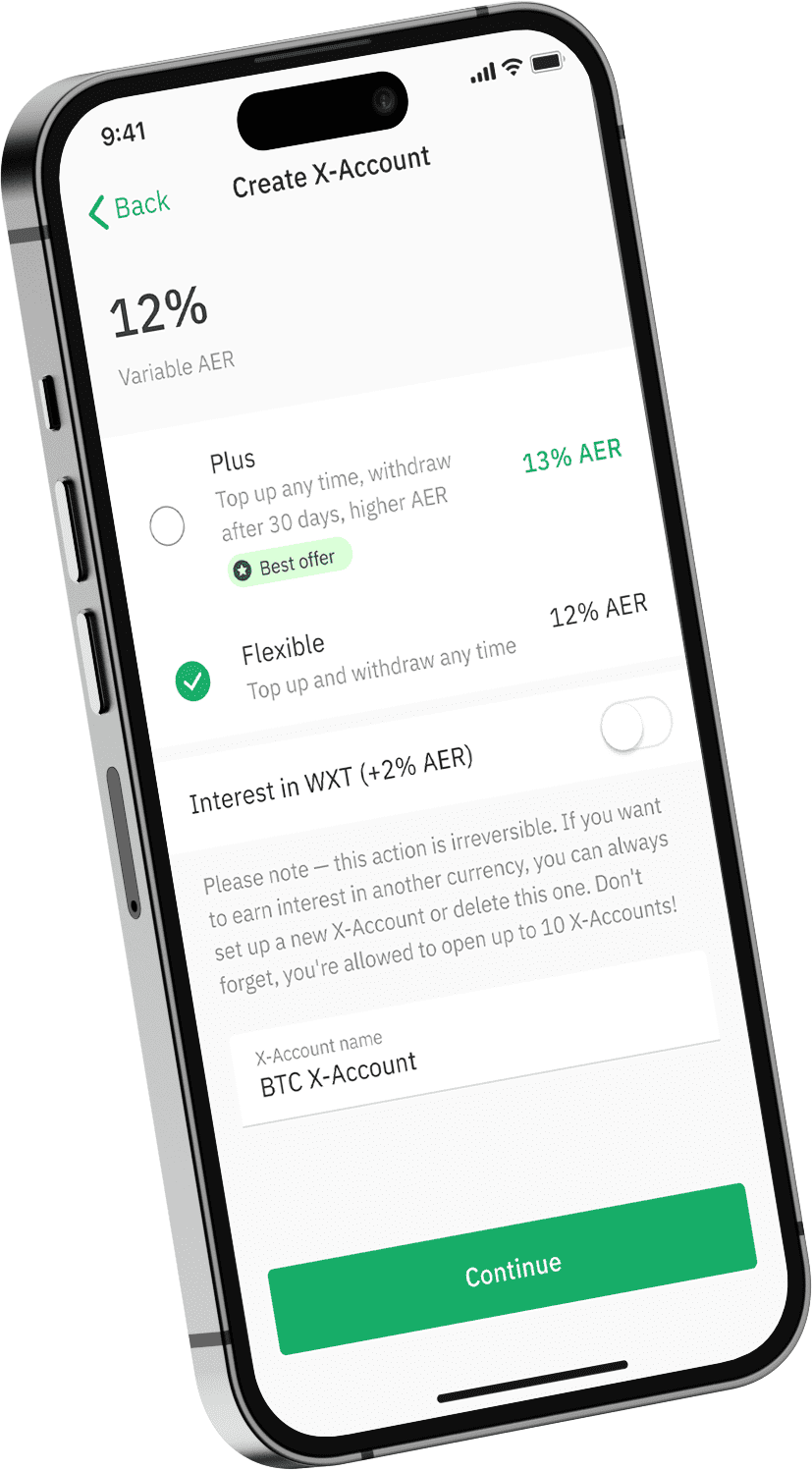 If you've already opened an X-Account and want to upgrade it to Plus, simply click on that X-Account, where you can select the button 'Earn Extra %' and choose to upgrade. You'll then begin earning the higher percentage APR for the next 30 days.
So what are you waiting for? Open an X-Account Plus today!
X-Accounts are made up of cryptocurrencies. Subject to the T&Cs and Privacy Policy