X-Plain X-Accounts to me!
By now, you've probably heard of X-Accounts. You may be aware that they're a super-simple and secure way to boost your savings. You might even know that they generate up to 16% AER on select currencies.
But we get it - you've probably still got some questions. That's why we've put together some handy X-Planations to help every age group better understand X-Accounts. So, whether you're after some new kicks, trying to buy a house or looking to grow your pension - read on to find out just what X-Accounts can do for you.
X-Plain it to a kid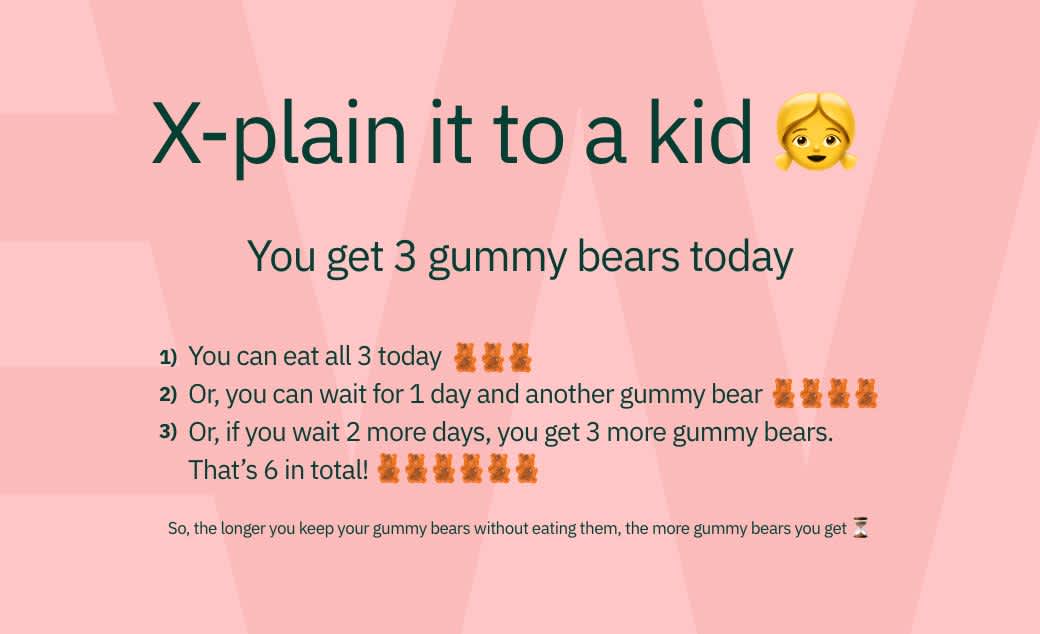 You get given 3 gummy bears today.
You've got 3 options:
You can eat all 3 today.
Or, you can wait for 1 day and get another gummy bear.
Or, if you wait 2 more days, you get 3 more gummy bears. That's 6 in total!
So, the longer you keep your gummy bears without eating them, the more gummy bears you get!
X-Plain it to a student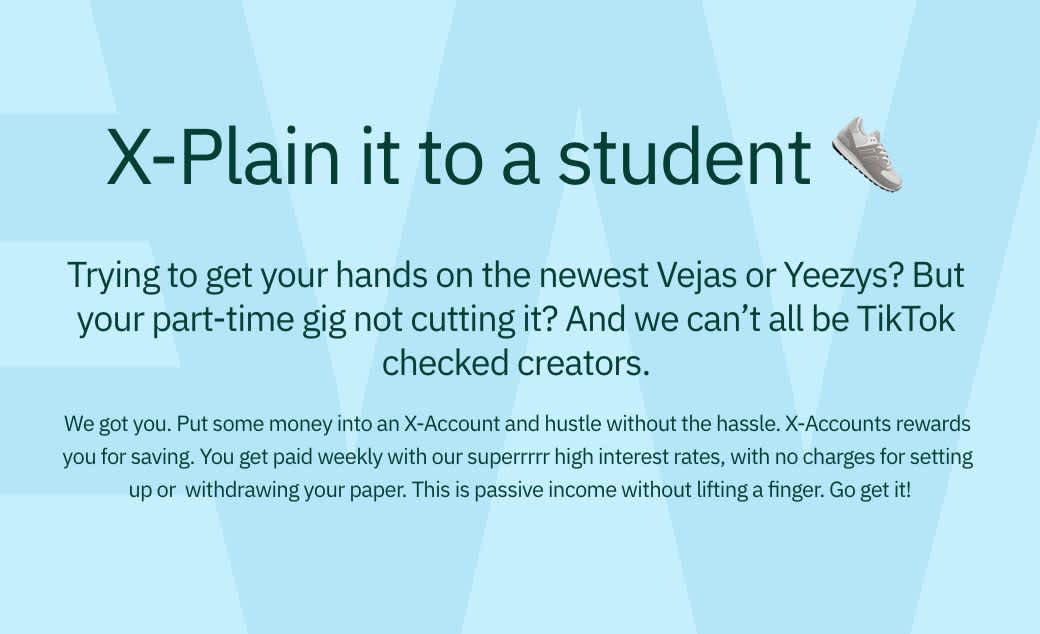 Trying to get your hands on the newest Vejas or Yeezys? But your part-time gig not cutting it? And we can't all be TikTok checked creators.
We got you. Put some money into an X-Account and hustle without the hassle. X-Accounts rewards you for saving. You get paid weekly with our superrrrr high interest rates, with no charges for setting up or withdrawing your paper. This is passive income without lifting a finger. Go get it!
X-Plain it to someone who's trying to buy a house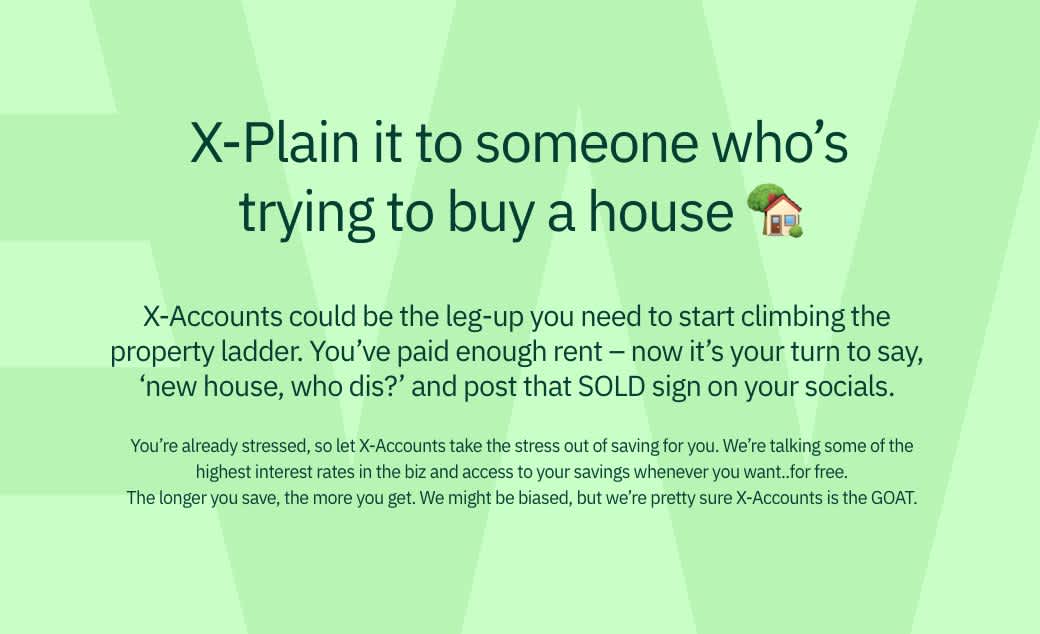 X-Accounts could be the leg-up you need to start climbing the property ladder. You've paid enough rent – now it's your turn to say, 'new house, who dis?' and post that SOLD sign on your socials.
You're already stressed, so let X-Accounts take the stress out of saving for you. We're talking some of the highest interest rates in the biz and access to your savings whenever you want… for free.
The longer you save, the more you get. We might be biased, but we're pretty sure X-Accounts is the GOAT.
X-Plain it to a parent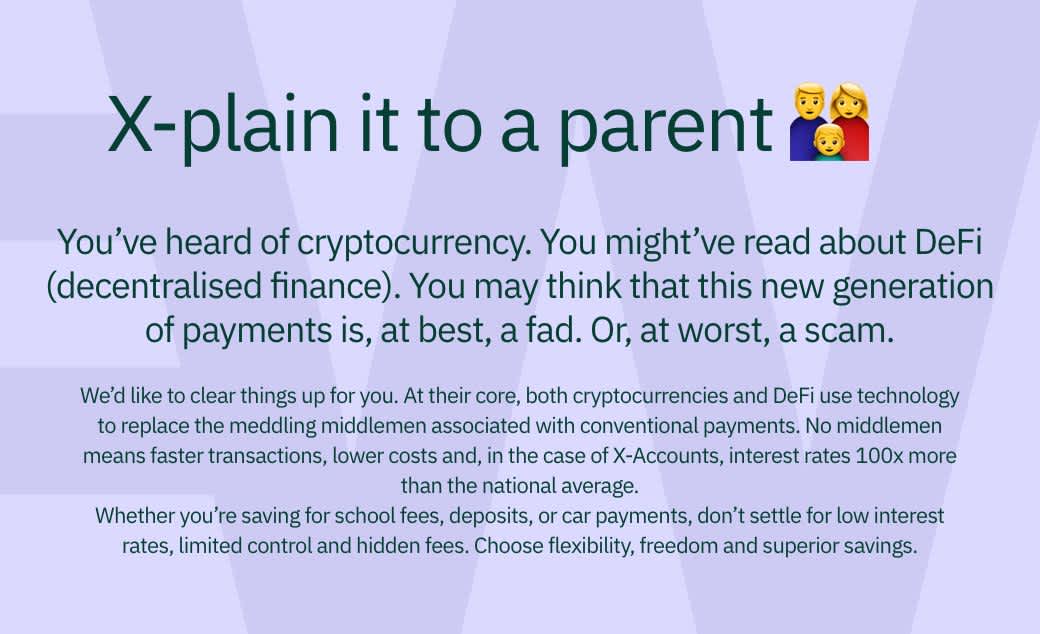 You've heard of cryptocurrency. You might've read about DeFi (decentralised finance). You may think that this new generation of payments is, at best, a fad. Or, at worst, a scam.
We'd like to clear things up for you. At their core, both cryptocurrencies and DeFi use technology to replace the meddling middlemen associated with conventional payments. No middlemen means faster transactions, lower costs and, in the case of X-Accounts, interest rates 100x more than the national average.
Whether you're saving for school fees, deposits, or car payments, don't settle for low interest rates, limited control and hidden fees. Choose flexibility, freedom and superior savings.
X-Plain it to the grandparents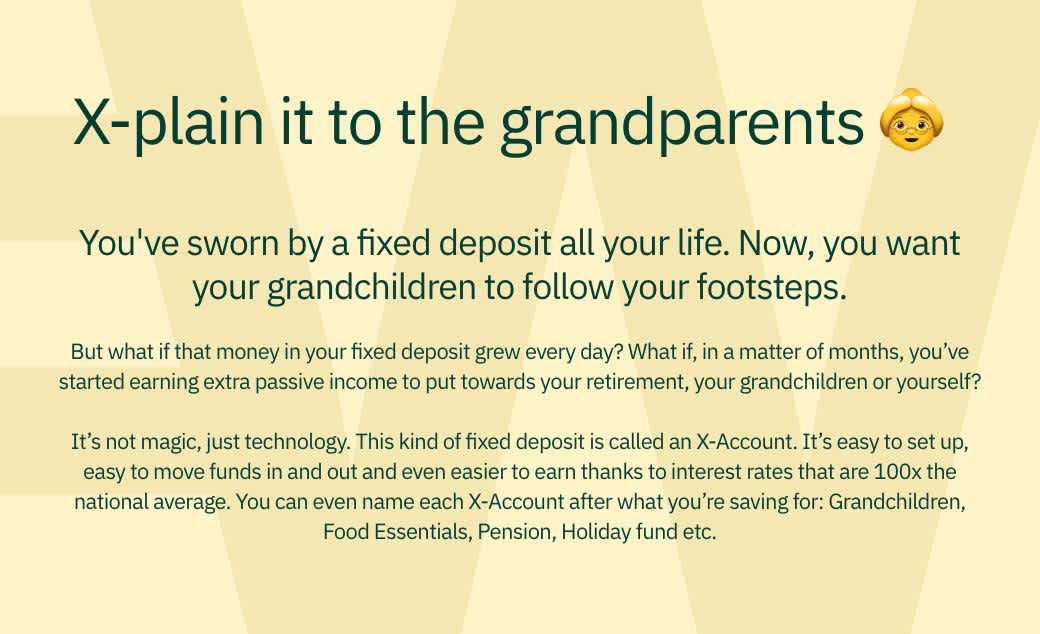 You've sworn by a fixed deposit all your life. Now, you want your grandchildren to follow your footsteps.
But what if that money in your fixed deposit grew every day? What if, in a matter of months, you've started earning extra passive income to put towards your retirement, your grandchildren or yourself?
It's not magic, just technology. This kind of fixed deposit is called an X-Account. It's easy to set up, easy to move funds in and out and even easier to earn thanks to interest rates that are 100x the national average. You can even name each X-Account after what you're saving for: Grandchildren, Food Essentials, Pension, Holiday fund, etc.
Open yours in a matter of minutes
We hope that helped! Luckily, it takes no time at all to open an X-Account in the Wirex app. You can open up to 10 accounts for currencies of your choice - so take your pick, add funds and start saving!