To close a Wirex Multiply position, please go to the Grow -> Multiply section in your account. Then select the Wirex Multiply you want to close and press the 'Close and get' button.
Kindly pay attention that when you manually close the position, the pop-up message depicts all the details of the Multiply.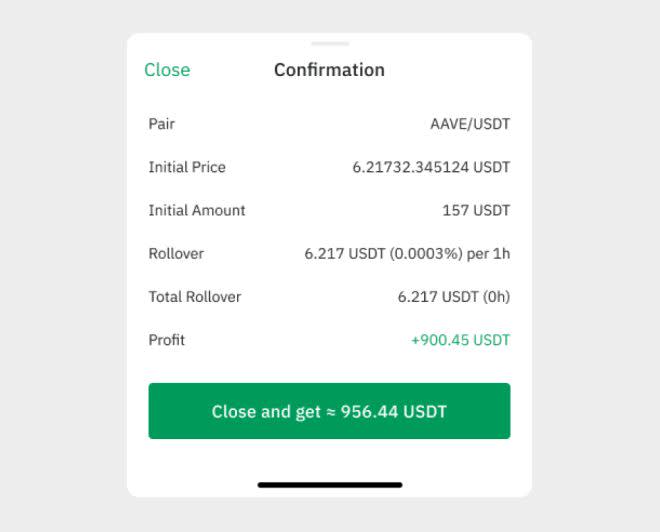 It may take up to 5 minutes for the deal to complete. Your profit/loss is estimated according to the real-time price and maybe a bit different than when you close the position.
Note: Rollover fee applies to all the Multiply deals. This fee allows us to put the next loan in the chain. Multiply creation is not possible without this fee. Rollover fee – the main trading fee that you pay for every fixed period.
All fees are calculated from the total borrowed amount of the chain of loans executed for your Wirex Multiply.
After you press the 'Close and get' button, our platform automatically closes your Wirex Multiply. The invested funds with either a profit or loss will appear in your wallet balance.
Wirex Multiply auto-closing options
Take Profit. When the price of the invested crypto reaches the Take Profit level, you receive all your invested funds and the profit gained during the Wirex Multiply back. Origination, Hourly, and Profit share fees will be charged. Take Profit is a manual option, and you should set it manually on your Wirex Multiply.

Margin Call (Stop Loss). If the price of the crypto reaches the Margin Call level, your Wirex Multiply will be closed and the rest of the funds (if it's not a 100% loss) will be deposited back to the wallet. Only the Margin Call service fee will be charged in this case. Origination, Hourly, and Profit share fees will not be charged. "Margin Call" is a required field and set by default, but you can change it manually to control your risks.

Insufficient collateral. Something that rarely happens, which is when the rollover fee eats all the liquidity of your position. In this case, Wirex will be forced to close your Wirex Multiply. It's possible the price of the coin goes flat or down but it is above the Margin Call level.
Note:
The financial result you see on the "Close and get" button is only an estimation based on the latest available market price.

After you press "Close now", the platform creates an order on the market exchange in real-time, taking the next available market price. Therefore, the closing price of the transaction in the platform and the price of the real execution may vary.

Find out more details in this article about Wirex Multiply Fees & Limits.