In the Wirex app, please go to the 'Grow' section -> Multiply -> you should be offered to 'Start First Multiply' if you have not created one earlier -> Select Pair.
You will see the most tradable currency pairs, gainers, losers, etc. You can go for a currency pair upon this recommendation or by seeking the needed one in the search bar.
Upon your supposition, decide whether the rate will go Up or Down.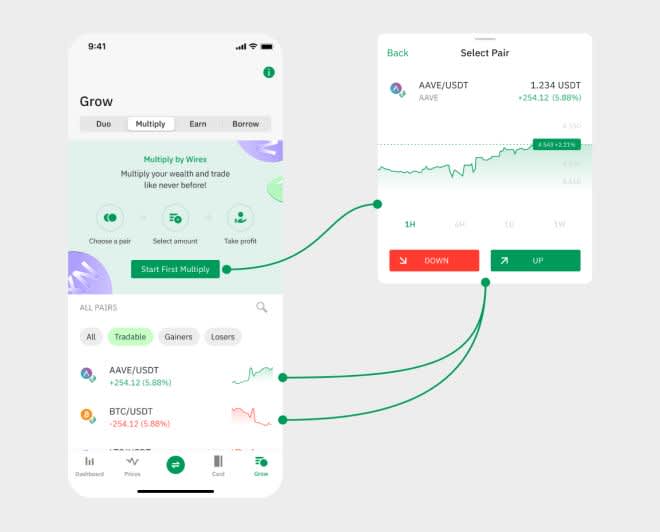 There, you can set the desired Wirex Multiply parameters:
The currency pair and price direction you'd like to invest – an instrument to choose the investment strategy to gain profit from price growth or price drop.

The source of funds and amount – your Wallet balance/currency, and the initial amount of investments.

Multiplier – the level of risk you are willing to take.

Take Profit and Stop Loss levels – Margin Call is set by default. You can choose any Take Profit level you want. You can change both levels later at any time after you create your Wirex Multiply.
Once you fill out the above fields, tap Confirm-> read the Terms & Conditions -> tick that you did it -> Confirm.
The system may ask you to add funds if you do not have a sufficient balance under the relevant account.
You can watch your Wirex Multiply process in the Grow -> Multiply section of your account.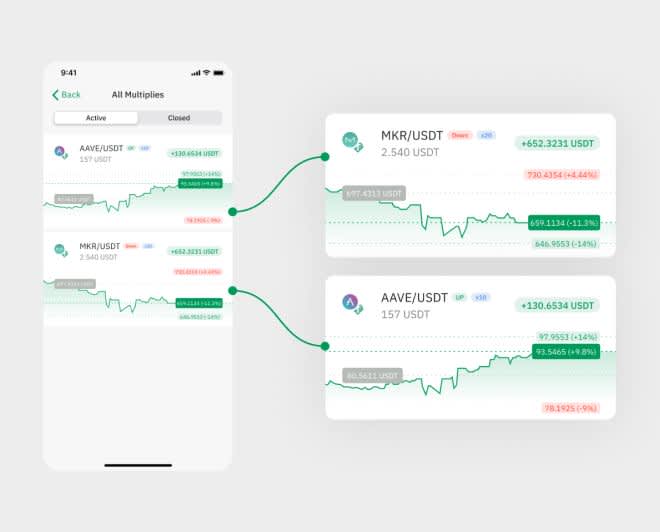 Note:
We use market execution at several integrated exchanges. After you click/tap the "Confirm" button the platform creates an order on the exchange in real time. The factual initial price of your Wirex Multiply may vary from the chart price.

All operations are executed on real crypto exchanges. Hence, the price rate and time of the transactions may vary.

Explore in advance the Wirex Multiply investment risk and Wirex Multiply fees & limits before using the product.

The max total volume of the opened positions per account may vary.