5 Reasons the New Mastercard Card is the Ideal Travel Companion
What's the easiest way to manage your money on holiday? A cutting-edge multicurrency card linked to a user-friendly app, all controllable at the touch of a button on your smartphone, of course.
Travel is a bit up-in-the-air right now, but global travel has been booming more than ever, and in 2019, the Travel & Tourism sector experienced 3.5% growth in 2019. With travel and spending go hand-in-hand, for many, one of the biggest difficulties faced is the difficult currencies used when abroad.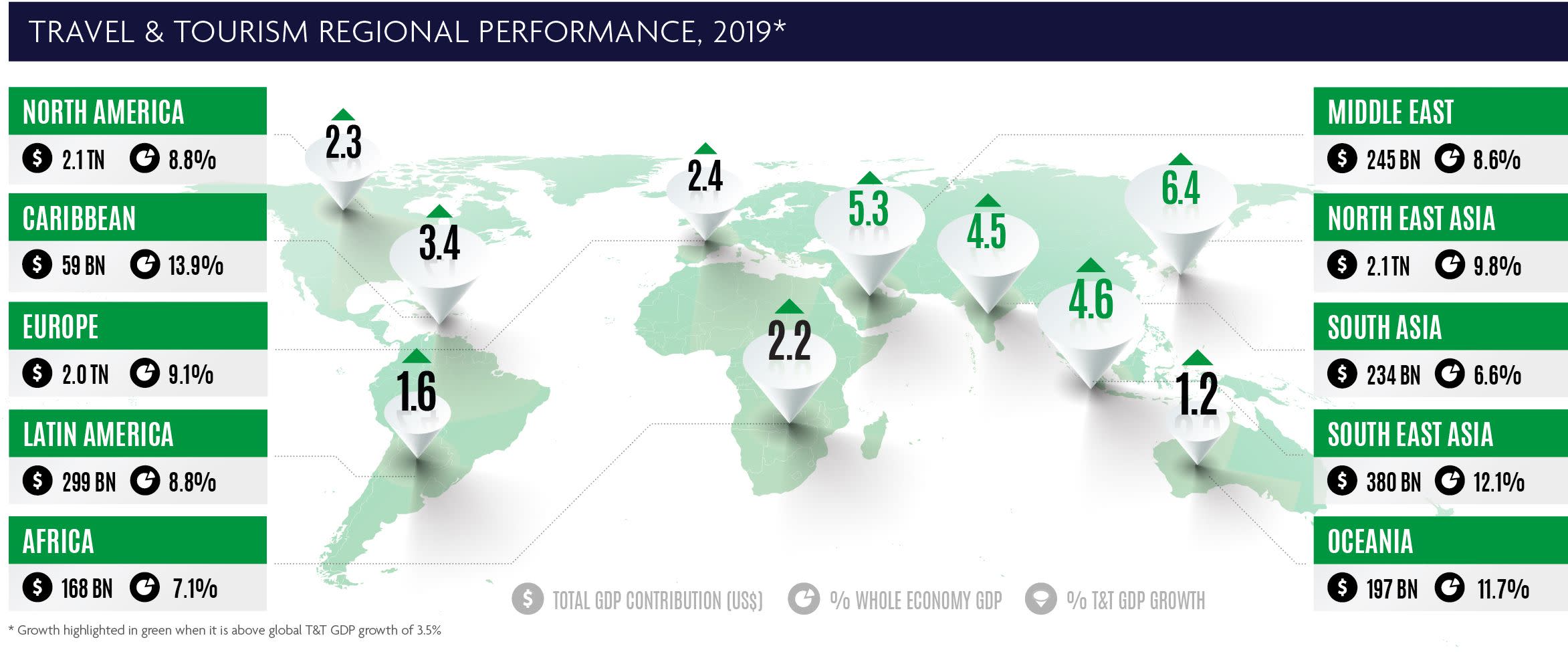 Source: World Travel & Tourism Council
According to Statista, $2,155,500,000 (USD) has and will be contributed by travel and tourism to GDP in Europe from 2012-2028. Before travelling, people have tended to go into a foreign exchange to change their physical cash into local currency, or were forced to use their traditional bank card when abroad. Not only is this time-consuming and inconvenient, but they are often faced with high and non-transparent fees. With technological advancements, time-constraints and a need to make our holidays more stress-free, consumers are looking for a cheap and easy solution for their spending habits when abroad.
Enter Wirex's brand new multicurrency Mastercard debit card. With more than 30,000 people on the waitlist, Wirex is preparing for the launch of the new contactless card in the EEA region. As our CEO and Co-Founder, Pavel Matveev, put it, it's going to be a 'competition-killer'. It's more versatile, flexible and powerful than ever, but one of it's biggest benefits is that the product can hold multiple currencies, making it perfect for frequent travellers.
Although travel might not be a priority for everyone right now, when we can once again travel freely and safely, you'll want to make sure that you're one of the first to have your hands on this brand new product!
Here are 5 reasons why Wirex's new multicurrency Mastercard debit card is the ideal travel companion:
Seamlessly spend in more than 150 currencies with the best in-market rates
The new multicurrency Wirex card enables seamless spending in 150+ currencies with realtime point-of-sale conversion. In-app, we offer unlimited free traditional currency exchange (FX) with exclusive access to live over-the-counter (OTC) rates for cryptocurrency transactions. Having integrated with liquidity providers, we've got access to the best in-market rates, which are normally reserved for big banks and exchanges, you'll have a stress-free experience.
Convert and use up to 18 crypto or traditional currencies to spend at more than 54 million locations worldwide
We're on a mission to bridge the gap between traditional and cryptocurrencies, and using the next generation of payment infrastructure and digital payments, you have the option to buy, hold, exchange and sell up to 18 traditional and cryptocurrencies from a single, intuitive app. State-of-the-art technology ensures they are accessible 24/7 wherever you are, so you can now use your brand new contactless Wirex debit card to spend these over-the-counter at any location around the world accepting Mastercard.
Free international ATM withdrawals with high limits
There's nothing worse than being charged a fee by your bank when trying to take out money abroad. The good news is that with the new Wirex card, you'll get free international ATM withdrawals below £400, and for anything above this amount, you'll only pay 2% fee. Now you have the freedom to spend how you want with an enhanced travel experience.
Earn up to 1.5% back in crypto on all in-store purchases, wherever you are
Get paid to travel! We all know how expensive travelling is, but with Wirex's Cryptoback™ scheme, you can earn up to 1.5% back in bitcoin, anytime you spend with your new Wirex card in-store. With our user-friendly interface, you can track this spending in real-time within the app, and use your Cryptoback™ how you want; the choice is yours! Keep your eyes peeled, as in the coming months, we'll be launching an overhaul of our rewards scheme to introduce the opportunity to get up to 2% Cryptoback™ for in-store and online purchases too, as well as other perks such as up to 6% AER interest on your balance of WXT, our native token.
Cross-border transactions with SEPA, SWIFT and Faster Payments to anywhere in the world
Although we might not be able to travel right now and take full advantage of the perks of the new card, don't worry, because there's no card or account management fees. In the meantime, stay connected with your loved ones with the ability to send money abroad, quickly, and at great rates, using SEPA, SWIFT and Faster Payments. The world will seem more borderless than ever before!
So whether you travel for business, leisure, or anything in between, or want to experience a world where all currencies are equal, there's plenty of reasons why you'll want to sign-up to our exclusive waitlist for Wirex's new multicurrency card.
To be one of the first people to get your hands on it, sign-up here now!