Crypto Corner: Week Summary 3 May 2021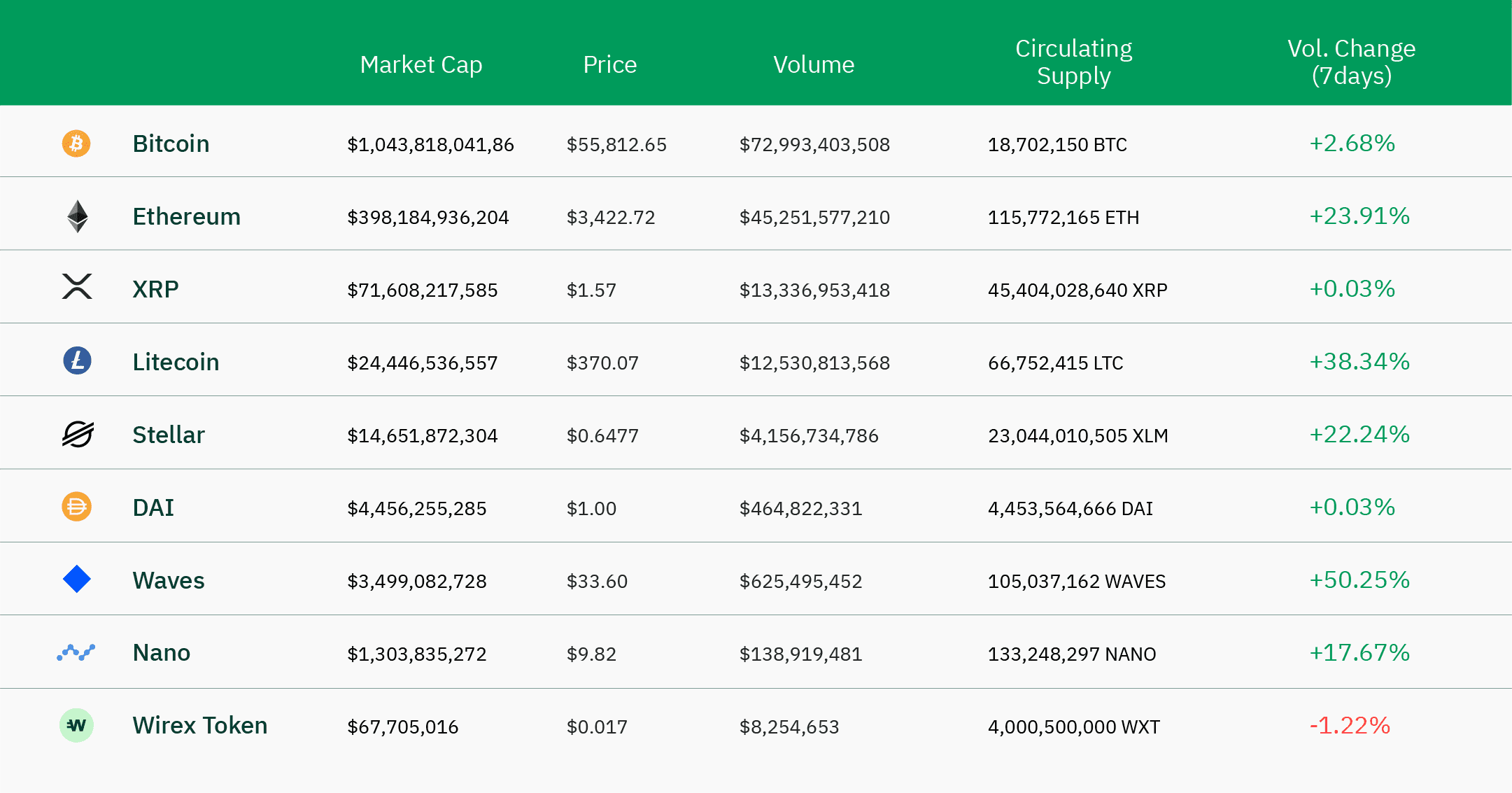 Data taken at 9:16am on 07/05/2021
The Bitcoin price (Bitstamp: BTC/USD) is still quoting within the $50,000-$60,000 'uncertainty' zone. The price reached a weekly high at $59,000 on Monday, and a weekly low at $52,924 two days later. At the time of this article, the Bitcoin price is at $55,926, which is 17% below its all-time-high (ATH). Meanwhile, the price of Ether (ETH/USD) broke its previous ATH every day for eleven consecutive days between the 26th of April and the 6th of May, reaching $3,610.04 yesterday. Last week's announcement by the European Investment Bank (EIB) of their first 100m euros issuance of digital bonds on the Ethereum blockchain contributed to the rally. But the first smart-contract cryptocurrency is also benefiting from a growing derivatives market.
Ether is catching up.
On-chain data suggest that Ether's transactional activity is catching up to Bitcoin's. ETH's on-chain volume (as measured by Coin Metrics' 7-days moving average) is above BTC's for third time this year.
Data from exchanges also show that Ether's trading activity is almost comparable to Bitcoin's. This fact is also largely relayed by the press, which contributes largely to the Ether's popularity:
On the options side: The Block reports that 'while the total trading volume for Bitcoin options was 879.5 million on Monday, Ether's was $1.32 billion, which is 50% more'.
On the futures side: the aggregated trading volume of ETH futures computed by skew.com reached $89 billion on Tuesday. The volume exceeded the aggregated trading volume of BTC futures ($83 billion) for the first time.
Finally on the spot side, ETH's daily trading volume on Tuesday ($55.4 billion) as reported by coinmarketcap was close to Bitcoin's volume ($57.2 billion).
Can Ethereum's market capitalization catch up to Bitcoin's?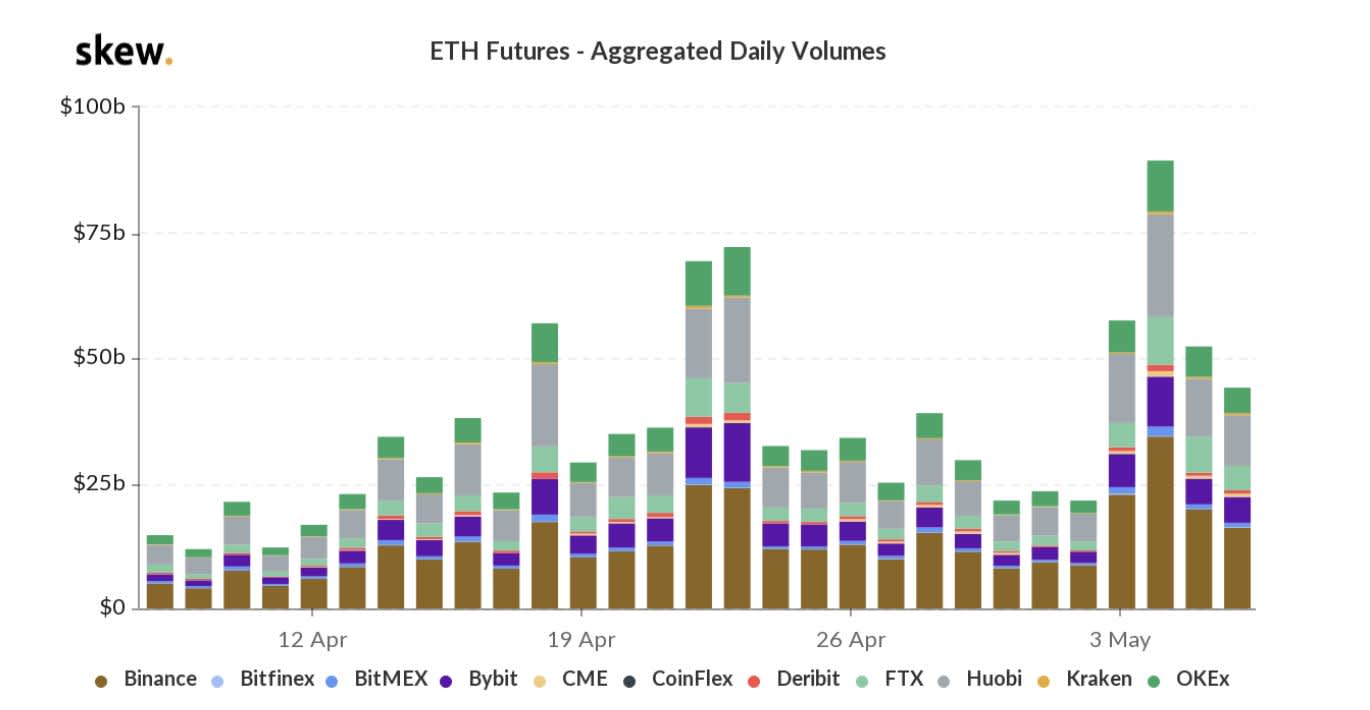 Institutions still favour Bitcoin.
We mentioned last week that the institutions interest in the first cryptocurrency slowed down significantly in April. Even though the growth in assets (AUM) of the most successful Bitcoin mutual funds and Canadian ETFs generally dropped, there are some exceptions: 'The 3iQ Coinshares Bitcoin ETFs' now have $2.25 billion AUM, up by $592mio in the last week of April alone. Coinshares reports this week that the size of the Bitcoin funds increased by +$441.7 million, against +$30.2 million only for Ether funds. There are now $47 billion AUM in Bitcoin funds, against $13.9 billion for Ethereum.
Yet, the growth potential is on Ether's side. All the stars seem to be aligned for the second cryptocurrency, and the ETH/BTC price at ₿0.0613 is now near its July 2018 levels: technically, it could take another 30% to reach the May 2018 heights, around ₿0.08.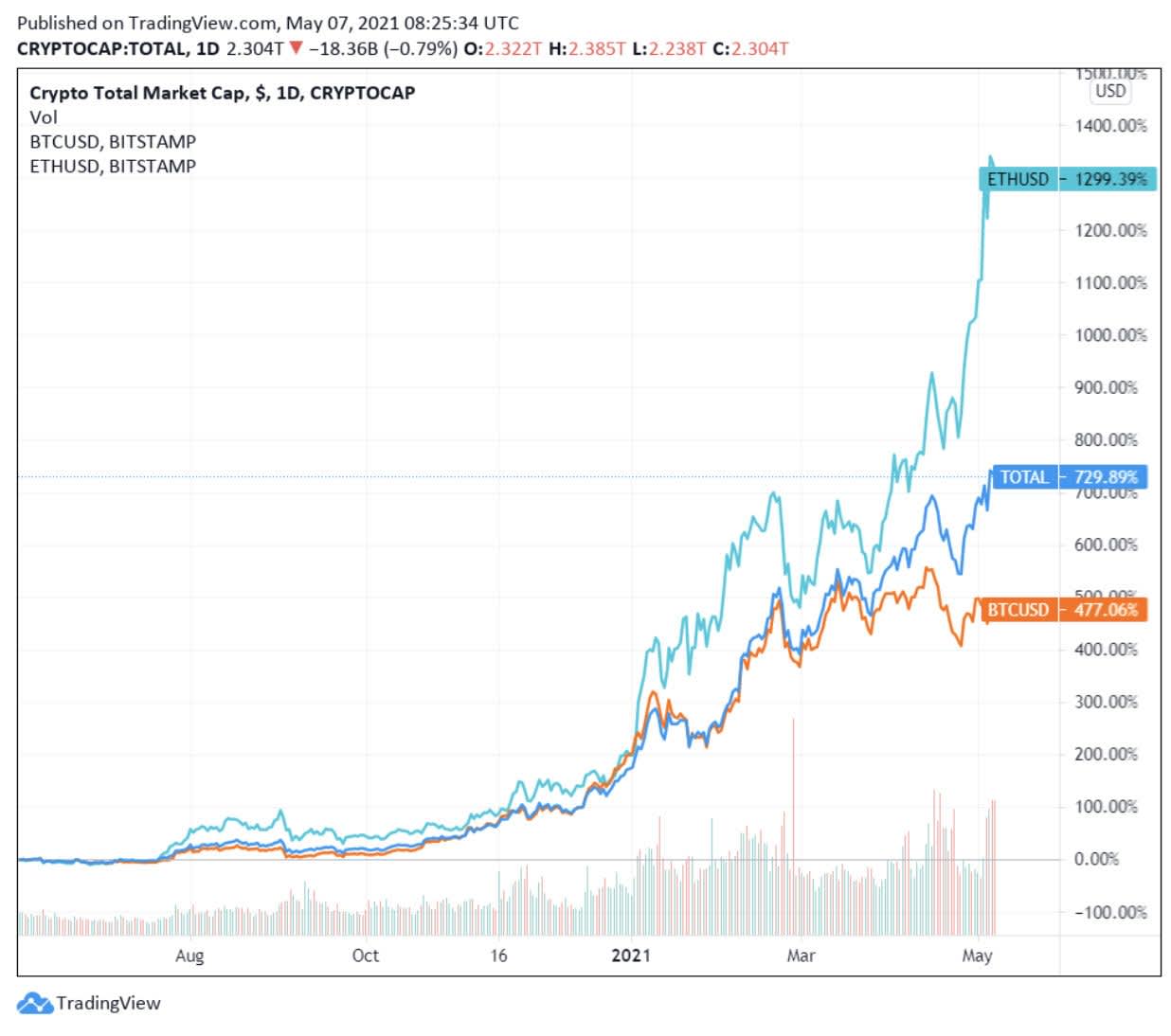 If large institutions, like Socgen (through Forge) or EIB, use the Ethereum's blockchain to digitalize their investment product activities, there is a chance for the ETH's market cap to get much closer to the top.
The EIB digital bonds were settled between the underwriters (SocGen, Goldman Sachs and Santander) and EIB using ERC-20 Central Bank Digital Currencies (CBDC) created by Banque de France. With the right legal and operational layers built on top of the Ethereum blockchain, CBDCs could theoretically be used to settle every financial transaction efficiently between investment banks.
The private and centrally controlled 'Corda R3' project was initially deemed more adapted to financial institutions looking for privacy. It was considered safer than Ethereum. Corda R3 is an exclusive blockchain reserved to its members (~70 large institutions). But Goldman Sachs, Santander and Morgan Stanley bailed out in 2016. JP Morgan left in 2017. The consensus that Corda R3 was looking to achieve might be failing. As a public and independent third party, the Ethereum blockchain brings more confidence to the sector than a members-owned blockchain. It is also more inclusive, and therefore widens a bank's investment opportunities. It can integrate many of the sector activities, including the cross-border settlement service that is the trumpeted cause of Ripple and its Ripplenet consortium. Corda, Ripplenet and Libra: three consortium-based projects that have, or might fail because they've been trying to achieve consensus among a selective group of competing corporations.