Has crypto finally reached the mainstream?
Stories surrounding crypto have truly reached the mass media, but does this mean that the general public are more crypto aware, or have more favourable attitudes to the currency?
After realising the need for primary research in the crypto space, we partnered with the Stellar Development Foundation in 2020 to work on our first report about the future of money. With overwhelming feedback from the industry, we've joined together for a second year to build on what we found in the previous report, as well as identify new trends that have emerged in the past year regarding crypto sentiment and usage.
We worked on surveying nearly 10,000 respondents across 4 regions that represented dfiferent socioeconomic and cultural backgrounds – the UK, US, Singapore and Mexico. This was broken into 8,000 from a third-party research company, representing a sample from the general population, and 1,257 responses of mainly crypto users from the Wirex and Stellar userbases.
The results from the report clearly highlighted a series of trends in crypto use and attitudes amongst particular types of users, with which we have separated the report into five myths about crypto, alongside the truth. Over the next few weeks, key stakeholders across Wirex will be delving a bit deeper into these, but in the meantime, we've given you a quick overview of those myths.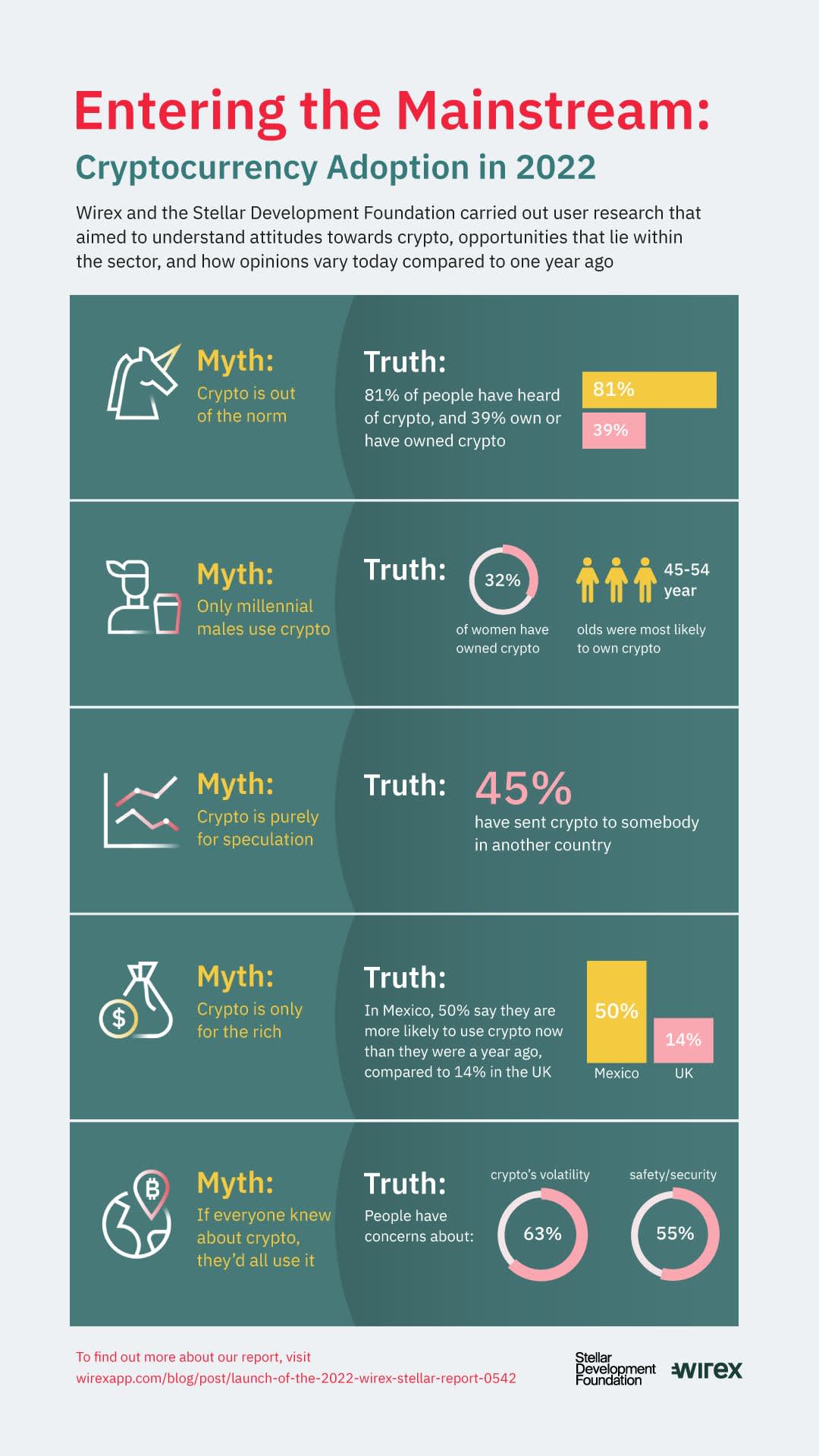 Myth: Crypto is out of the norm
With news stories emerging about Paypal and eBay accepting crypto, Crypto.com sponsoring sports arenas and tournaments, and changing governmental regulations from the US to Thailand, it's no surprise that the mainstream media have been writing about the currency more and more. And as such, it's only natural that everyday consumers are becoming aware of crypto, with 81% of people having heard of crypto.
What's more, is that nearly half the population (39%) own or have owned crypto. Although many remain sceptical, it's clear that people from all backgrounds are beginning to own some form of the currency, whether that be for investment purposes, as a payment method, or to participate in the growing crypto gaming sector.
Myth: Only millennial males use crypto
Describe your typical crypto holder? Young, male, technologically-savvy? That's probably what you're thinking. Well think again, because our results show that 32% of women have owned crypto, and 45-54 year-olds were most likely to own it.
With an increase in readily available information about the currency online, as well as easy-to-use, reliable and safe crypto-based products aplenty, people of all ages, genders and backgrounds are diving into the world of crypto and discovering all the benefits it has to offer.
Myth: Crypto is purely for speculation
With BTC and ETH having reached new all-time highs in the past year, and with the effects of COVID on the global economy still taking a hit, there's been a big jump in people looking for alternative investments such as crypto.
It's easy to think that that is the only use case of crypto, but it's clear that crypto is increasingly being used as a payment method too. Our survey showed that 45% of people have sent crypto someone in another country. High transaction fees and slow transaction times for payments using traditional methods, particularly in developing economies, are some of the key push factors for using crypto for cross-border transactions.
Myth: Crypto is only for the rich
Crypto is thought to be one of the most inclusive currencies globally, allowing anyone with access to the internet to utilise its benefits. And given the huge range of use cases available, we're seeing a staggering amount of people in undeveloped, underdeveloped and emerging economies take advantage of it.
In fact, our survey showed that 50% of those in Mexico said they are more likely to use crypto now than they were a year ago, compared to 14% in the UK. A huge contributing factor to this is that people in emerging economies are likely to have more distrust in traditional financial institutions, and have larger proportions of unbanked that could be brought into the global financial system, simply by owning crypto.
Myth: If everyone knew about crypto, they'd all use it
Despite an increase in awareness, this doesn't quite mean that everyone is keen to get on-board. There are still many concerns raised by different people about crypto, namely it's volatility, safety and security, and a lack of knowledge over how to use it. 63% of people raised concerns about the sudden changes in value of crypto, whilst 55% also raised concerns about how safe it was to use. Both of these can easily be tackled through increased education of consumers, since stablecoins can remove the volatility issue, whilst the emergence of easy-to-use and highly secure crypto products can reassure users over safety concerns.
-
This report has proven that crypto is becoming more widely accepted, as well as adopted. People from all backgrounds are taking advantage of its benefits, but it's clear that certain people have more to gain from the currency. There's still progress to make before it can truly challenge the traditional economy, but the digital economy is certainly on its way there.
To find out more about our report, visit our announcement blog post.