Identity Verification: What You Need to Know (India)
With India now ranking second on the global crypto adoption index, and more than 20 million Indians jumping on the crypto bandwagon last year alone, it's safe to say that the country firmly recognises the potential of digital currency.
With this in mind, we decided to build on our successes in the European Economic Area and Asia Pacific by expanding our services into India and over 80 other new countries at the end of last year.
While we now have 4.5 million customers around the globe, we want to help our newer customers get to know us better and learn how to make the most of their Wirex accounts.
A question we're often asked is why customers need to verify their accounts. We thought we'd put together some handy information to help answer this question for our Indian customers. So, read on for a little look at what verification is, why it's so important and how to do it.
Why is identity verification required?
As a regulated institution, we're required by law to verify the identity of all our customers. This helps us keep your money safe and prevents criminals from using Wirex for illegitimate purposes. Identity verification is just one part of the Know Your Customer (KYC) process, which aims to ensure that customers of financial services are genuinely who they claim to be, and that their money comes from a legal, legitimate source.
All customers must verify their accounts before they can start using Wirex. By taking a minute or two to let us know who you are, you're helping us fight back against financial crime, such as fraud, bribery and corruption, money laundering, identity theft and terrorist financing.
Which documents do I need to submit for verification?
1. Proof Of Identity (POI) document
Your Proof of Identity document should be a valid government-issued document and needs to match the personal information you provided when creating your Wirex account.
Please check that your POI document includes:
Your full name
Full date of birth (DD/MM/YYYY)
Your photo
The document's expiration or validity date
2. Proof Of Address (POA) document
To confirm your address, you'll need to submit a Proof of Address document that matches the residential address you supplied when you applied for your Wirex account.
The document must meet the following criteria:
It must have been issued within the last 3 months
It must show your full name and residential address
It must show the document's date of issue and the document issuer's details (e.g. the name and logo of your bank or the letterhead of your utility provider, etc.)
It must be written in Latin characters or have a certified translation attached.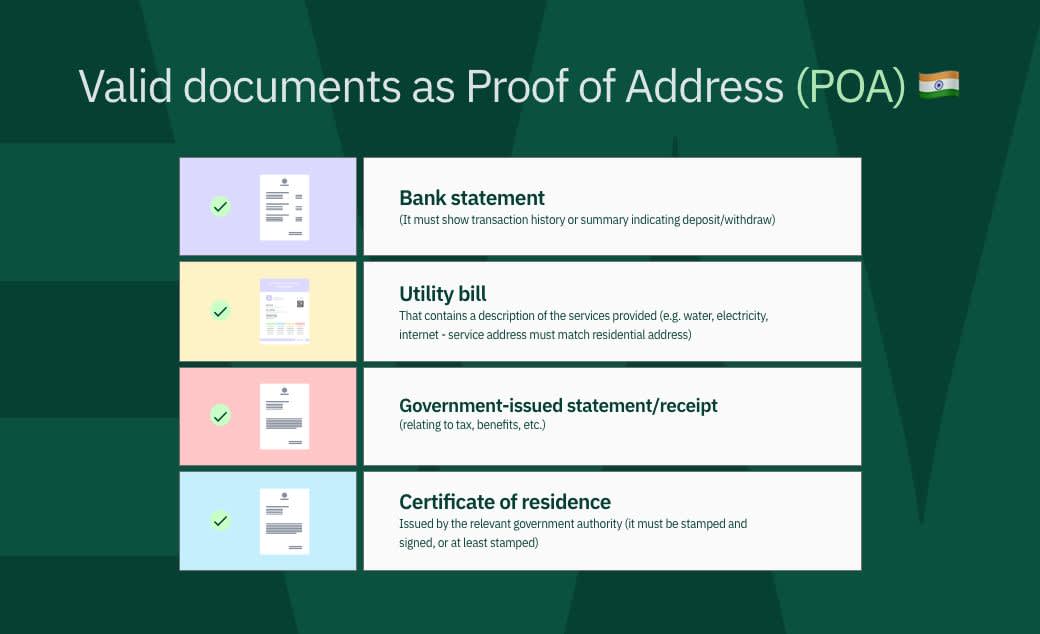 Things to note:
Your documents must be in English.
You must supply both the front and back of all documents.
We can only accept documents in the following formats: PDF, JPG and PNG (screenshots will not be accepted).
POI documents must show your full date of birth (DD/MM/YYYY) - documents that only contain your year of birth will not pass verification.
Pictures of either POI documents or selfies opened on a computer screen will not be accepted.
Make sure that the image of your document is not blurred, doesn't show any glare and is not cropped, so that all details are clearly readable.
For POA, make sure that your document is not password-protected.
You must provide two separate documents for POI and POA – we don't accept the same document for both.
You can only open one Wirex account for yourself.
If you experience any difficulty completing verification, please contact the Support Team.
Poor Examples of POI or POA documents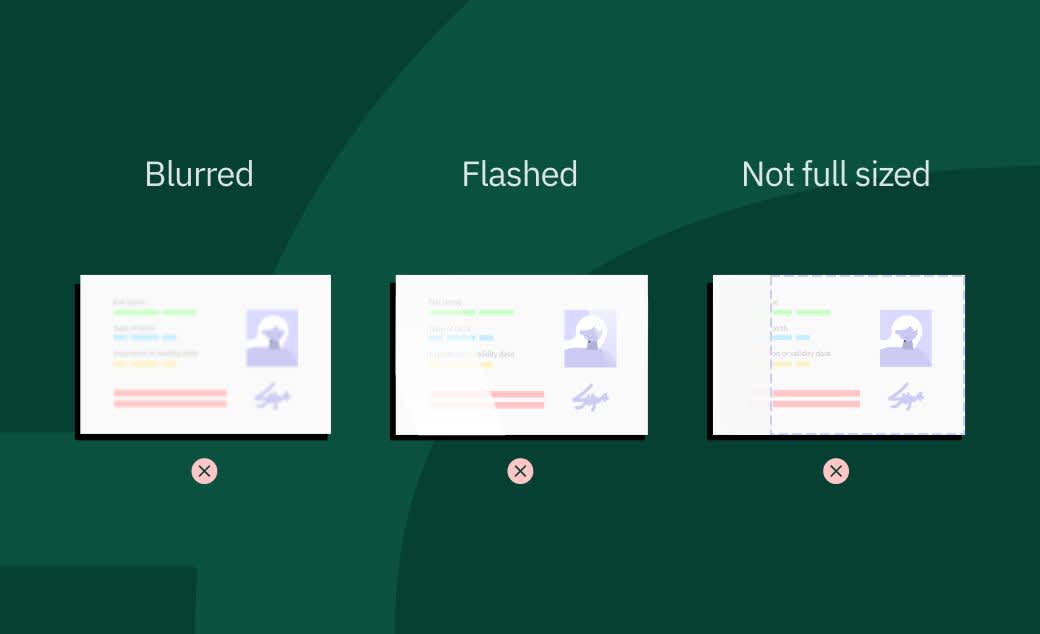 I'm having trouble entering my name – what am I doing wrong?
When entering your name, make sure to enter both your first, middle (if any) and last names, exactly as they are written on your identification document: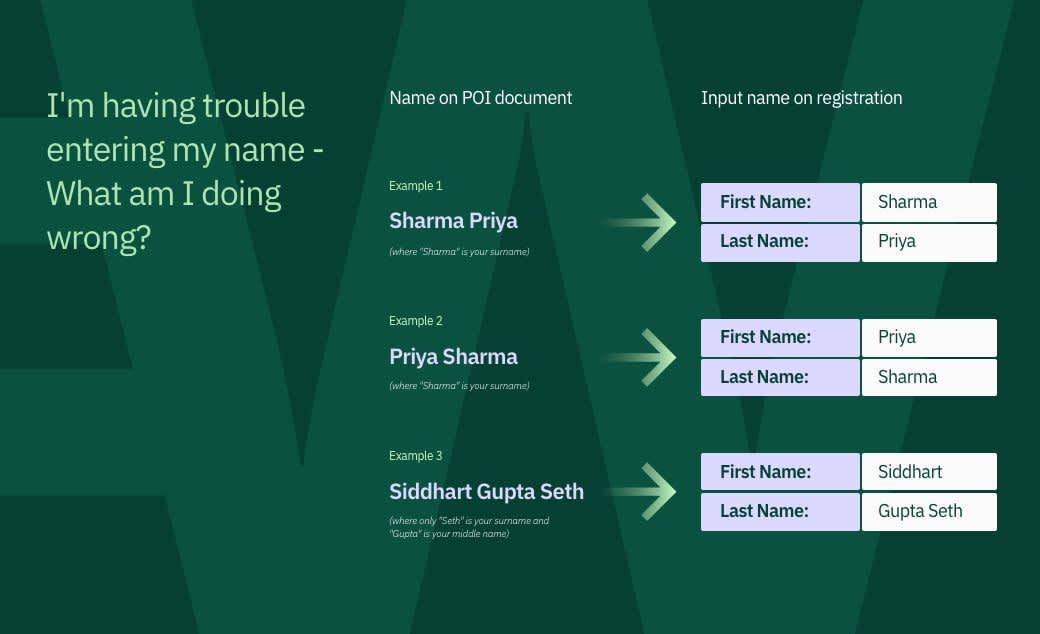 How do I complete verification?
Step 1: Upload your Proof of Identity (POI) document
On the Confirm Personal Information screen, complete the fields, check them for accuracy and tap Next.
On the Confirm Mobile Phone screen, enter your mobile phone number and confirm it using the SMS code we sent to your registered number.
On the Identity Verification screen, tap Choose document and select the type of a document you want to provide for verification.
Take a photo of your POI document. Once you are satisfied that the picture of your POI is clear and legible, tap My document is readable to submit the image.
Note: you can only upload your POI and POA documents in the Wirex app, not on our desktop platform. You can also start the verification process from the app by going to Preferences > Profile.)
Step 2: Upload your selfie
On the Selfie Verification screen, tap Take a selfie. Make sure your selfie clearly shows your whole face. If you need to retake the photo, tap Take a New Picture.
Once you are satisfied that your selfie clearly shows your whole face, tap Confirm My Selfie to submit the image.
Step 3: Upload your Proof of Address (POA) document
When it's time to verify your address, you'll be automatically redirected from the Dashboard to the Verify your Address screen.
Tap Prove Address.
On the Confirm residential address screen, review your information and tap Confirm.
Note: if you're unable to tap the Confirm button, check that you've filled in your information correctly.
On the Address Verification screen, tap Choose document and select the document you'd like to provide for verification.
Tap the camera icon to take a photo of your Proof of Address document (If you need to retake the photo, tap Take a new picture).
Once you are satisfied that the picture of your POA document is clear and legible, tap My document is readable to submit the image.
If you need to add more photos, tap the camera icon again. When all the photos are added, tap Submit to send your POA documents for verification.
You will see a submission confirmation message. This means your documents were successfully sent for processing!
How long will verification take to complete?
Identity verification is automated and usually takes under 5 minutes. Address verification, on the other hand, is a manual process carried out by our Verification team, so it can take up to 24 hours. You will receive an email and an in-app message once your documents have been verified, or if they have been rejected for any reason.
Can I use Wirex without completing verification?
No, you cannot. All customers must verify their accounts before they can start using Wirex.
Is my personal information safe with Wirex?
We employ the latest technology to keep your information and funds as safe as possible. Here are some of the ways we look after your personal data:
Verification
We require verification before any major change is made to your account, such as disabling 2FA or changing your email address. This makes sure that you're the only one who can make changes to your account or personal details. Account-related requests can only be addressed by our Support Team if initiated from your Wirex-linked email address.
Email confirmation
Your Wirex account is linked to your email address. This means that funds cannot be transferred out of your Wirex account without email confirmation.
Two-Factor Authentication (2FA)
2FA is an extra layer of security that helps keep your funds and data as safe as possible. It requires users to provide two means of identification before accessing their account. These two levels are your password and a unique special code generated by an authentication app, installed on your smartphone.
Multi-signature technology
Every Wirex account is protected by BitGo's multi-signature technology. This makes it impossible to transfer funds without the permission of every party involved.
Monitoring
Our sophisticated monitoring software and analysis tools can detect unusual behaviour on your account, helping reduce the risk of money laundering and fraud.
Unlock all this and more
Once your account has been verified, you're ready to start making the most of everything Wirex has to offer. Here's a taste of what's to come:
Earn up to 16% AER on select cryptocurrencies such as Bitcoin, Ethereum, DAI and more with X-Accounts.
Easily add funds to your Wirex account with your local credit or debit card.
Send money to other Wirex customers for free.
Get free WXT for referring your friends and family to Wirex.
Exchange 30+ top cryptocurrencies in the Wirex app at exclusive OTC rates.
Find our full list of cryptocurrencies here.
Refer-a-Friend
Our Refer-a-Friend programme rewards you for introducing your friends and family to Wirex. Find out more about it here.
So, what are you waiting for? Open your Wirex app and verify your account today!