Meet the Judges
After an eventful few weeks that saw us launch the 'Rising Women in Crypto Power List', as well as host our very first 'Women in Crypto: Tech, Innovation & Digitisation' livestream event, we're very excited to announce the highly-anticipated judging panel for our Power List.
What is the Rising Women in Crypto Power List?
The 'Rising Women in Crypto Power List' was opened to celebrate women in the sector, calling out for women to nominate either themselves or someone they know that are doing incredible things within crypto. Working with UKTN for this year's campaign, it's part of our wider 'Women in Crypto' campaign that we launched in 2020, and aims to showcase that anyone and everyone, whether male or female, can get involved in the crypto sector – it really is 'open to all'!
The judging criteria will be based on women demonstrating unprecedented levels of achievements, potential, influence, ambition, leadership skills and innovation.
Nominations are currently open until the 29th October, and we'll announce the longlist of all those nominated on the 5th November.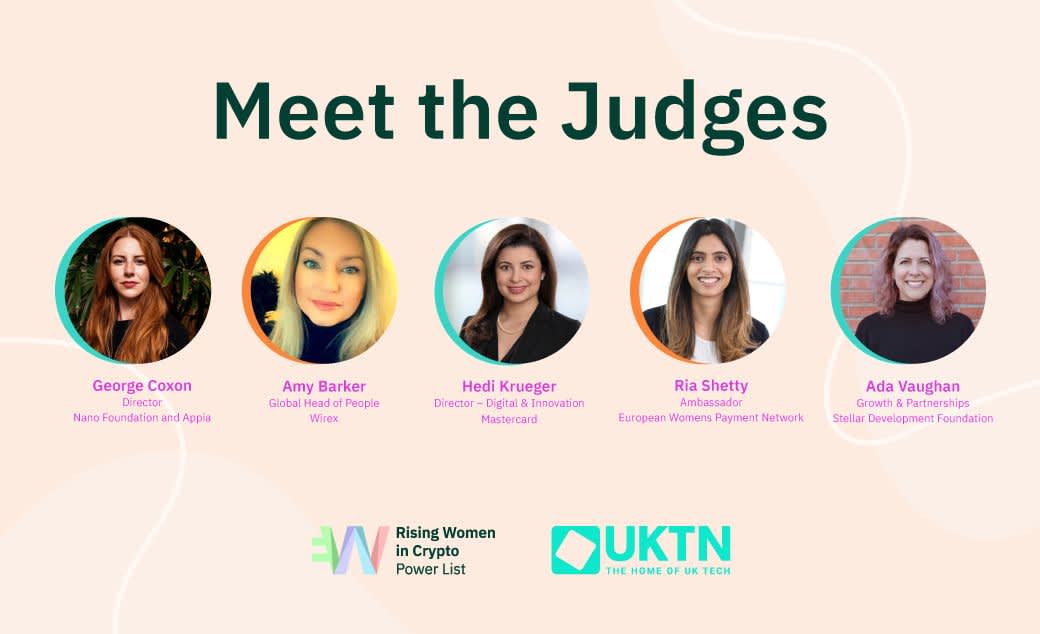 Who are the Judges?
It's no easy feat to bear the responsibility of choosing our top 10 for the Power List, so we made sure to pick 5 female powerhouses that already have vast experience within the crypto sector as our judges. Coming from all backgrounds and roles, they'll be working together in early November to decide who their favourite 10 should be, which will be announced on the 11th November on the Wirex blog and UKTN website. From the entries we've seen so far, it's not going to be an easy decision!
Without further ado, meet your 5 judges:
George Coxon, Director of the Nano Foundation & Appia
George is on a mission to make the global economy equal and open to all. The Direction of the Nano Foundation, she focuses on leveraging Nano's fee-less, instant and sustainable qualities to create digital money solutions to real-world problems.
A degree in Evolutionary Anthropology amplified George's natural fascination in the complexities behind social behaviour patterns and what makes people 'tick'. She has since applied her learnings to further develop a wider understanding of how efficient, decentralised, digital money can empower and elevate the underbanked.
As a female leader within the nascent and challenging world that is digital money, George is committed to nurturing and championing female entrepreneurs, as they continue to succeed within the digital and technology sectors.
After playing a pivotal role in the judging panel last year, it's great to have her join us again and help to choose another 10 incredible women for the Power List.
Amy Barker, Global Head of People at Wirex
As a Chartered Institute of Personnel and Development qualified senior people professional, Amy has over 20 years' experience in the People profession. Having joined Wirex in August 2019, Amy has built and led the People team who have a global remit for headquartered functions such as; Marketing, Finance, Compliance and Risk and Legal.
In her early career, Amy worked for traditional financial services organisations such as investment banks and brokerages and, by virtue, has strong knowledge and experience working in a highly regulated environment. Moving away from 'traditional finance', Amy decided to transition into the fast-paced, challenging world of Fintech start-ups and Crypto and has never looked back! Responsible for global people strategy, Amy works closely with the co-founders of Wirex to ensure that the people function supports, and delivers on, the key organisational objectives as it continues to scale at pace.
Hedi Krueger, Director of Digital & Innovation at Mastercard
Hedi is the Director of Digital Solutions, Germany & Switzerland at Mastercard Europe. She is a product manager and subject matter expert for Mastercard's digital and new payment platforms including Mastercard's Digital Asset Card Program and Blockchain initiatives. Previously, she has held roles consulting Mastercard issuers, acquirers and merchants on strategy, product development, operations and commercialization.
Hedi was a project manager at Oliver Wyman consulting large corporates and FinTechs, with a focus on European retail banking, insurance, innovation and new business models. She holds a Masters in Management from London Business School and a double degree Masters of Science in Chemistry with Medicinal Chemistry from the University of St. Andrews, Scotland and has published in scientific journals. She is a dual citizen, having worked in four countries, with an international outlook and a strong interest in emerging technologies and trends in financial services.
Ria Shetty, Ambassador of the European Women in Payments Network
Ria is one of the German country ambassadors at the European Women Payment Network, which is a platform for likeminded individuals from the Fintech industry. As an ambassador she organizes local and virtual meet-ups on industry related topics but also on pushing the agenda of diversity and inclusion.
Besides being an ambassador, Ria is also a Manager in the Digital & Cyber & Intelligence Solutions Department at Mastercard. She is currently dealing with PSD2 topics & Digital Identity alongside being the co-lead of Mastercard's Women Leadership Network for Germany & Switzerland.
Ada Vaughan, Growth & Partnerships at the Stellar Development Foundation
Ada's entrepreneurial endeavors in fintech and blockchain brought her to the Stellar Development Foundation, where she helps SDF communicate how blockchain can drive economic opportunity and financial inclusion around the world. With a background in startups and go-to-market strategy, Ada has driven growth for crypto asset management tools, consumer finance apps, and B2B tech companies. She volunteers as an entrepreneurship advisor at Northwestern University and for students' business pitch events at Georgetown University and Cornell University.
An enthusiastic remote worker, Ada splits her time between Chicago and Seville, Spain. She earned her international MBA from Georgetown University McDonough School of Business, holds a Women in Leadership certification from Cornell University, is human resources certified SHRM-SCP, and speaks Spanish, French, and Crypto.
How do I Nominate Someone for the Power List?
Want to get involved and think you know someone who deserves some recognition? Whether they're a crypto veteran or a new rising star, we want to recognise women from all around the crypto industry – no achievement is too great or small!