NFT Artist Spotlight: LeSandre Morris
Tuesday 8th March was International Women's Day, and we took a look at some of the most popular female NFT artists currently on the scene.
Today, we're here with some more in depth insights from LeSandre Morris, the founder of one of the hottest NFT communities around: The Nudie Community.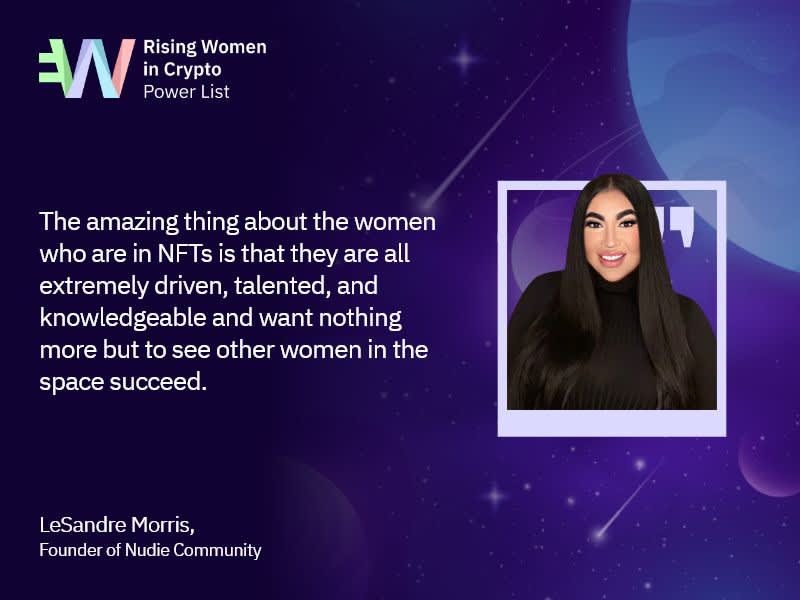 How did you set about of starting your own NFT community and coming up with the story behind Nudie Cats?
The journey of starting an NFT collection is very similar to start-up culture as a founder you have to wear all hats and at all times be prepared to roll up your sleeves, get your hands dirty, and do the groundwork to be there for your community in any and all shapes possible. It comes with high highs and low lows but at the end of the day the biggest thing that's come out of it is a community of real people who have all rallied together around one thing and that thing is what you worked endless hours to create from scratch in a new sector. It is truly incredible and I couldn't be more proud.
The Nudie Community muses were actually my own hairless cats Chicken, Steak, and Sushi. As for the backstory of the Nudies who came back to earth to help the humans who have been consolidating their authority and power around centralized figures and places by bringing us advancements such as decentralization, so that Web 3, Cryptocurrencies, NFT and DAOs could soon bring back power to the people, came from my point of view of where I believe the future should pivot towards in real life.
How did you decide to set on a path of creating a female-led artist space and how easy was it to come across likeminded creatives?
After doing the deep dive into the NFT community it is very apparent it is a male-dominated arena and as a woman, it is very easy to feel alienated. After further research and learning women only make up 16% of the artist in the space and 5% of the sales I knew I needed to form a women powerhouse to represent women well and help onboard and support more women in the space.
The amazing thing about the women who are in NFTs is that they are all extremely driven, talented, and knowledgeable and want nothing more but to see other women in the space succeed.
Do you have any advice for female creatives that want to start in the NFT space, but are feeling intimidated and overwhelmed?
I would say do the deep dive down the web3 rabbit hole and look for those like-minded individuals and ask questions!
Remember no question is a bad question, it is a sector in its infancy stage that moves a mile per minute so no matter if someone has been it for a month or a year they are still learning daily and no one is an "expert" so don't feel intimated.
Find where is best for you in the space and always do research and continue to every day to stay best educated.
All the information can be overwhelming because it's new, but like anything new and worth learning it takes time and research to learn the ropes.
Do you have a quote that keeps driving you forward and inspired you to work within the NFT space?
The world is yours, it is tattooed on my left hand and I look at it daily. This space is a perfect example of that. Who would have thought a girl in a male-dominated community where women only make up 5% of the sales in a $41 billion dollar industry could take inspiration from her 3 hairless cats and turn it into a 10,000 piece NFT and sell out in 22 minutes.
Remember this world truly is yours and it is what you make it, so dream big.