Q&A with Terra Virtua
NFTs have been all over the news in 2021, and we're pretty excited about them too. In case you missed it, we've teamed up with Terra Virtua to bring Wirex customers some exclusive NFTs, and so we reached out to Pierre Dadd, Marketing Director at Terra Virtua to get some insight on the growing NFT movement.
How has the popularity of NFTs changed in 2021?
We've been in the NFT space for over three years, but in March 2021 NFTs really hit the mainstream with the sales of Beeple's 'Everydays - The First 5000 Days" work that went on to sell for a staggering $69m. This has been both positive and negative for the industry. Positive because it ensured that NFTs truly entered the mainstream in 2021, but it has also positioned NFTs as inaccessible, a perception that they're not for everyone because of the high price tag.
At Terra Virtua, we're democratising the market by creating NFTs for the masses. Not only do we sell highly engaging and interactive NFTs for as little as $25, we believe that we are one of the only platforms that allows users to purchase in fiat rather than a crypto currency. Our aim is to make Terra Virtua as the most accessible platform for all NFTs - be it linked to a movie IP (such as our recent partnerships with Paramount Pictures and Legendary Entertainment), NFT Art, or the recent launch of vPlay - the world's first NFT comic book reader.
How are NFTs contributing to the DeFi movement?
NFTs can create a lot of opportunities in the DeFi space as it's a new asset class. Take our recent partnership with Hashmasks. The authenticity and ownership that the blockchain provides means that owners of Hashmasks effectively have their own IP. We then worked with the IP owners to develop a range of Hashmask vFlects which meant that when we sold the items on our marketplace, the IP owners not only get a percentage of the primary sale, but they also receive a royalty every time the item is traded on the secondary market. This is just one example of what can now be done in the DeFi space.
What does the future look like for NFTs?
The space is still really new, and we feel the future is really bright. The way that we view NFTs in our particular space is that they create opportunities for people to connect with the brands they love in a completely new way. At Terra Virtua, we connect people with their passions, and NFTs allow fans and collectors to interact with brands at a much deeper level than before.
What do you wish people knew about NFTs?
Many people get confused when it comes to NFTs due to conflicting discourses, such as the perception that they're a get rich quick scheme. But quality will always rise to the top. For Terra Virtua, we are here for the long-term with a sustainable business model that has an emphasis on working positively with IP owners and connecting audiences with an immersive experience that they can't get anywhere else. We want people to be able to see how doing creative and innovative things with NFTs can be a new fandom experience, where the opportunities are truly endless.
There is also a lot of noise in the market about sustainability. Bitcoin has recently been making headlines for the wrong reasons when it comes to energy consumption - where it was reported that the mining of the coins uses the same amount of energy per year as the whole of Argentina. This noise is spilling over into NFTs, with IP owners beginning to worry about the environmental impact of NFTs. At Terra Virtua, we take sustainability very seriously and have recently moved to the layer 2 blockchain, Polygon. Minting an NFT on Polygon has an equivalent carbon footprint of sending 2 emails - whereas previously it would have been the equivalent of creating and publishing 83 paperback books!
How easy is it for people to make their own NFTs?
There are various tools that have emerged which allow people to create an NFT. However there is a big difference between creating an NFT, and creating an engaging and immersive experience for fans and collectors alike. Many people are doing the former, we are focused on the latter. Ultimately, we want to focus on the benefits that the technology brings, rather than the technology itself.
What's Terra Virtua's most popular digital collectible and why?
We have many exciting brands that we work with but one of the most exciting to us is our own line of digital collectables, called vFlects. This unique line of robots have different animations and characteristics and have proved to be massively popular with our audiences. They are a truly unique product, a digital first collectable toy which is based on an NFT technology.
Why are you excited about partnering with Wirex?
We are extremely focused on the mainstream adoption of NFT technology. We think for crypto to enter the mainstream it needs to be easy to use, as easy as current solutions. We admire what Wirex are trying to do in the space, simplifying the use of crypto and pushing it towards the mainstream. We share this vision and our aim is to do the same with NFTs.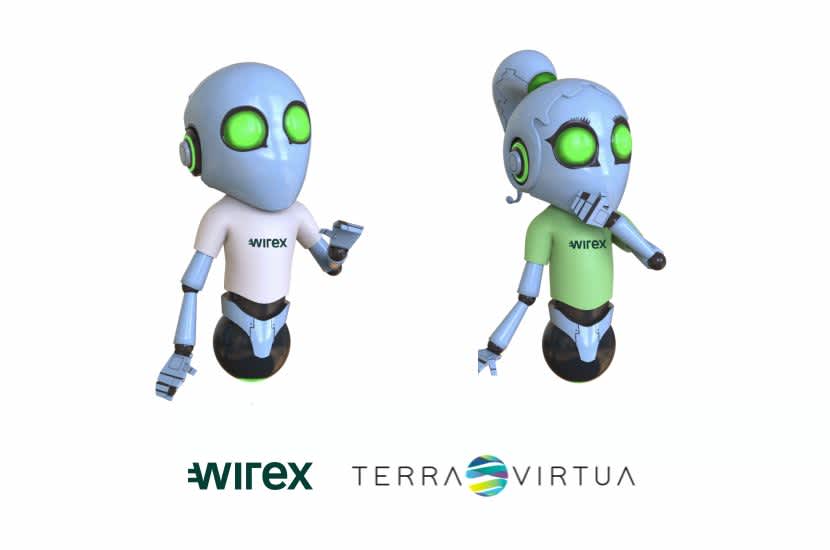 It's not too late to dive into the world of NFTs with Wirex and Terra Virtua! You can still get your hands on an exclusive Wirex-branded NFT for free this week. Working with Terra Virtua, we've produced 500 vFlects, aptly named WireXX and WireXY, to give out to the first group of people that upgrade their X-tras accounts to Premium and Elite between the 7th-14th June. Find out more here and upgrade today!