Employee Spotlight: Lottie Wells
The 2021 Women in Crypto campaign is coming to an end, and we recently announced this year's Power List, where an all-female panel of judges chose 10 of the most influential women in the crypto space right now. 2021 isn't quite over yet though! We recently shared crypto advice from some of the women around Wirex and keep your eyes peeled for the next instalment coming later this week.
However, with this year's campaign drawing to a close, it only makes sense for November's Employee Spotlight to highlight one of the creators of the Women in Crypto campaign, Lottie Wells!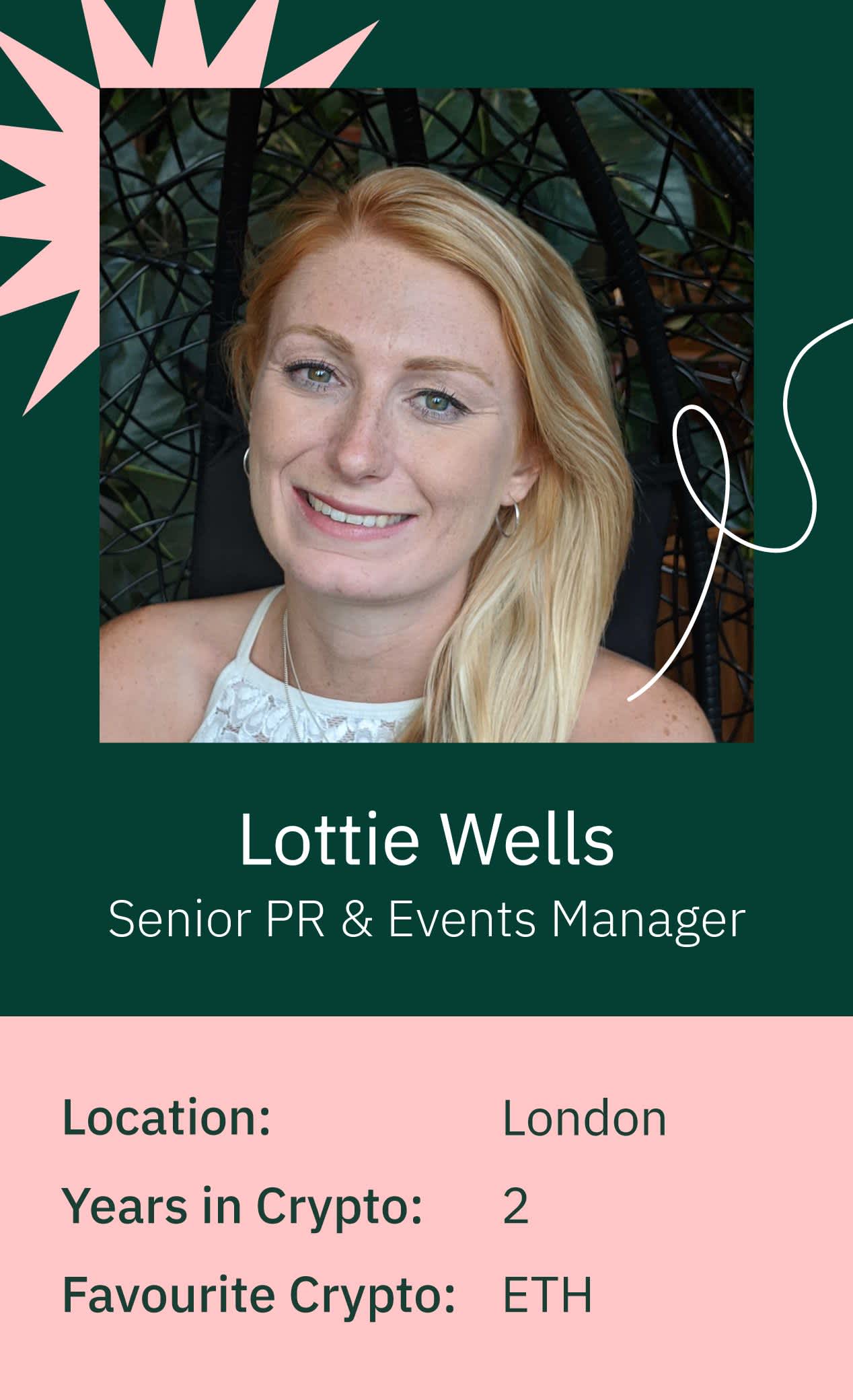 Why do you think more women should get involved in crypto?
Because the stats don't lie – there are fewer women involved in the crypto sector. Like Wirex and Founders mission, I do genuinely believe in the potential of crypto and blockchain technology, and am very aware that the digital economy can only become more prevalent in everyday lives if women (who make up half of our population) play an equal part in it.
I'm sure there are many, many people there who have had a similar experience with crypto like me, and are skeptical to join a male-dominated industry. But it's important that we spread the message and show that you don't need to be a hardcore crypto fan to get involved – it really is open to anyone!
What achievement are you most proud of?
Having the opportunity to play a pivotal role in launching and overseeing the Women in Crypto campaign has been a career highlight for me. You hear of 'women in fintech'-type campaigns and competitions all the time, but rarely see much spotlight on the crypto women. It was a great opportunity to throw my passion and interests into a campaign, and genuinely play a role in inspiring other women to follow in our footsteps.
Although it's a year-round initiative that's at the core of many of the campaigns we do, we've just closed and announced the winners of the 2021 'Rising Women in Crypto Power List', and have had an overwhelming response. Across both years that it's run, we've received nearly 600 nominations of incredible women that remind me why we run this Power List; to recognise these women, and showcase what they are doing across the crypto industry. It's great to be part of this, and we're constantly commended for the effort we're making in using Wirex as a platform to spread this message.
What's your favourite thing about working at Wirex?
Being given the autonomy to work on campaigns. My female colleagues and I have been given the responsibility to oversee the Women in Crypto campaign ourselves, with 0 involvement from our male counterparts. It's a very flat hierarchy at Wirex, where the senior team actively encourage anyone and everyone to get involved with strategic decisions and contributing to ideas, which is something I've not always experienced in the marketing world.
It's great that they entrust us with building and running campaigns, and in the ever-changing crypto world, no idea is too crazy!
What do you enjoy most about your role?
The ability to throw myself into a huge variety of areas and push myself to do things that might not be typical in a standard marketing or PR role. Wirex has a very flat hierarchy, meaning they encourage you to take up roles and responsibilities that will stay with you throughout your career. Most recently, I had the pleasure of hosting the 'Women in Crypto: Tech, Innovation & Digitisation' event to launch the 'Rising Women in Crypto Power List' alongside 6 female powerhouses of the cvrypto industry. It was a huge success and both livestream and in-person attendees mentioned how much they enjoyed it, learnt from it and how it celebrated women in the sector. No two days at Wirex are the same – one day I'll be speaking to a journalist about why the BTC price has risen in the last day, and the next I'll be speaking to a global audience about the importance of women in crypto!
Where do you see the crypto industry in 5 years' time?
Crypto is growing an exponential rate – we've seen that with the 2020 bull run and the explosion of DeFi applications available. As mainstream awareness and access to crypto grows, I genuinely think blockchain technology will begin to intersect more and more with everyday life, and add considerable value to the processes and services we have.
And most importantly, I see women playing an even larger part in it. Initiatives like ours, and the women that play a part in it will definitely help with this, so it's an exciting time for women to be a part of this journey! Let's hope the 'Women in Crypto' campaign is around for years to come too!