What Can You Do With WXT: Explore Plans, Perks, and Rewards
WXT, Wirex's native token, isn't just another cryptocurrency - it's your passport to a world of exclusive and tailored financial benefits. Recognised not only within the Wirex app but across a variety of crypto platforms, WXT is a versatile utility token.*
With WXT, you gain access to X-tras, our innovative rewards programme that turns every transaction into a rewarding experience.**
Each token you hold brings you closer to unlocking benefits like Cryptoback™ and the Savings Bonus.***
In the world of WXT, holding this token means stepping into a space where every transaction opens doors to a range of rewards. It's not just about spending and receiving; it's about enhancing your financial journey with each interaction.
Discover the Award-Winning X-tras Membership
Wirex's X-tras has received recognition as an award-winning loyalty program. It has been praised for its innovative methods in rewarding customer loyalty. You can find more information about the awards we've received here.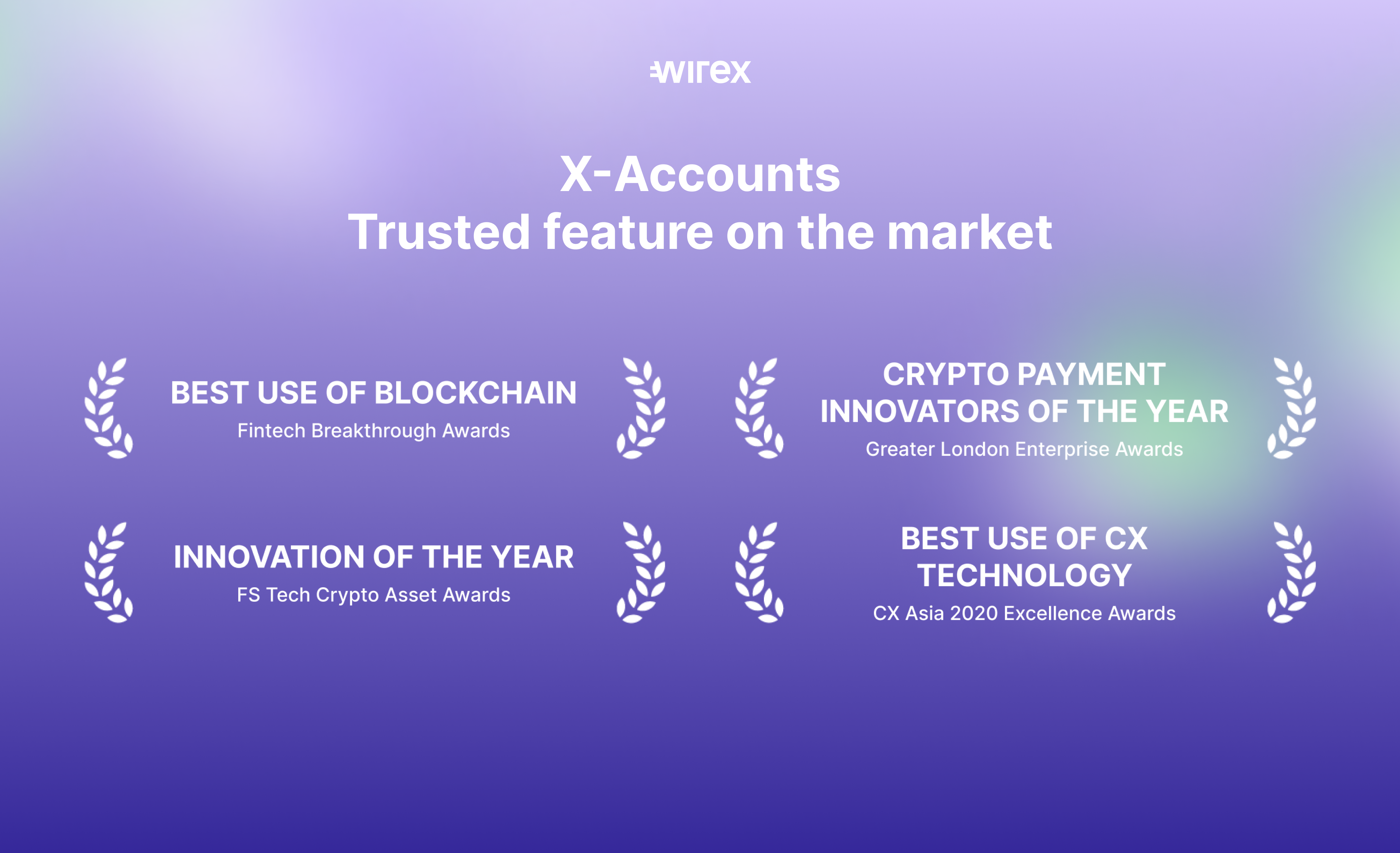 X-tras is designed to enhance your Wirex experience by turning every interaction on the platform into an opportunity to earn valuable WXT tokens.
Your loyalty is recognised and rewarded through X-tras. Each transaction and engagement presents a chance to accumulate WXT tokens, enriching your financial journey. These tokens can be used to cover subscription fees, advance to higher tiers, and unlock exclusive benefits such as increased interest on X-Accounts and enhanced Cryptoback™ rewards.****
Whether you choose to enjoy the upgraded platform benefits or exchange your WXT tokens for other cryptocurrencies or traditional fiat, the decision is yours.
With X-tras, every earned token contributes to a personalised financial journey where rewards align with your preferences and financial goals. This underscores Wirex's commitment to transforming your everyday transactions into fulfilling experiences.
Revealing the Rewards
Elevating Rewards with Cryptoback™
At the heart of Wirex's inventive rewards system is Cryptoback™, a programme that turns every purchase made through the Wirex card into a chance to earn WXT. The concept is simple: the more you spend, the more WXT you accumulate. You can earn an impressive 8% in Cryptoback™ on each transaction, and these rewards are smoothly deposited into your X-tras account within the Wirex app. Learn more about the details of Cryptoback™ here.
Boost Your Holdings
The Wirex X-tras programme goes beyond just rewarding transactions; it's a way to honour your commitment to saving. If you have WXT, you get a monthly Savings Bonus that boosts your assets with an annual percentage rate (APR) of up to 16%. Every bonus is carefully adjusted based on your membership plan and the amount of WXT you hold each month to ensure a personalised, maximised bonus.
Interest Accrual via X-Accounts
Explore the X-Accounts and discover a space where your cryptocurrencies, stablecoins, and traditional currencies aren't just stored but actively contribute to earning daily interest, which is credited weekly. The amount of interest you earn depends on how involved you are, ensuring a personalised and optimised earning experience. Learn more about how X-Accounts enhance your interest accrual here.
Capitalise on Promotions
Wirex puts a lot of thought into its promotional campaigns, aiming to provide enhanced and rewarding experiences for its customers. Two noteworthy examples are the DUO and Multiply promos, carefully crafted to maximise the rewarding potential for every Wirex user.
In the DUO Promo, users are encouraged to progressively engage. They receive 200 WXT when they open their first DUO. The rewards increase to 2000 WXT when they interact with 5 DUOs in total and reach a generous 5000 WXT upon engaging with 10 DUOs, indicating higher levels of involvement.
As for the Multiply Promo, it emphasises volume and consistency. Users earn 2000 WXT by initiating the first Multiply with at least £100. The reward grows to an impressive 20000 WXT as users expand their interaction, opening 5 Multiplies, each valued at a minimum of £100.
Plans and Boosts
Wirex X-tras is a specially designed rewards program that provides users with a choice of three unique plans. Each plan comes with perks such as higher Cryptoback™ rewards and increased interest rates on X-Accounts.
Users can elevate their experience and rewards by holding WXT tokens, enabling them to move up the Boost Tiers for exclusive benefits. As you progress through each tier, the rewards get better, making every transaction and savings effort more fulfilling and customised to individual financial needs and aspirations.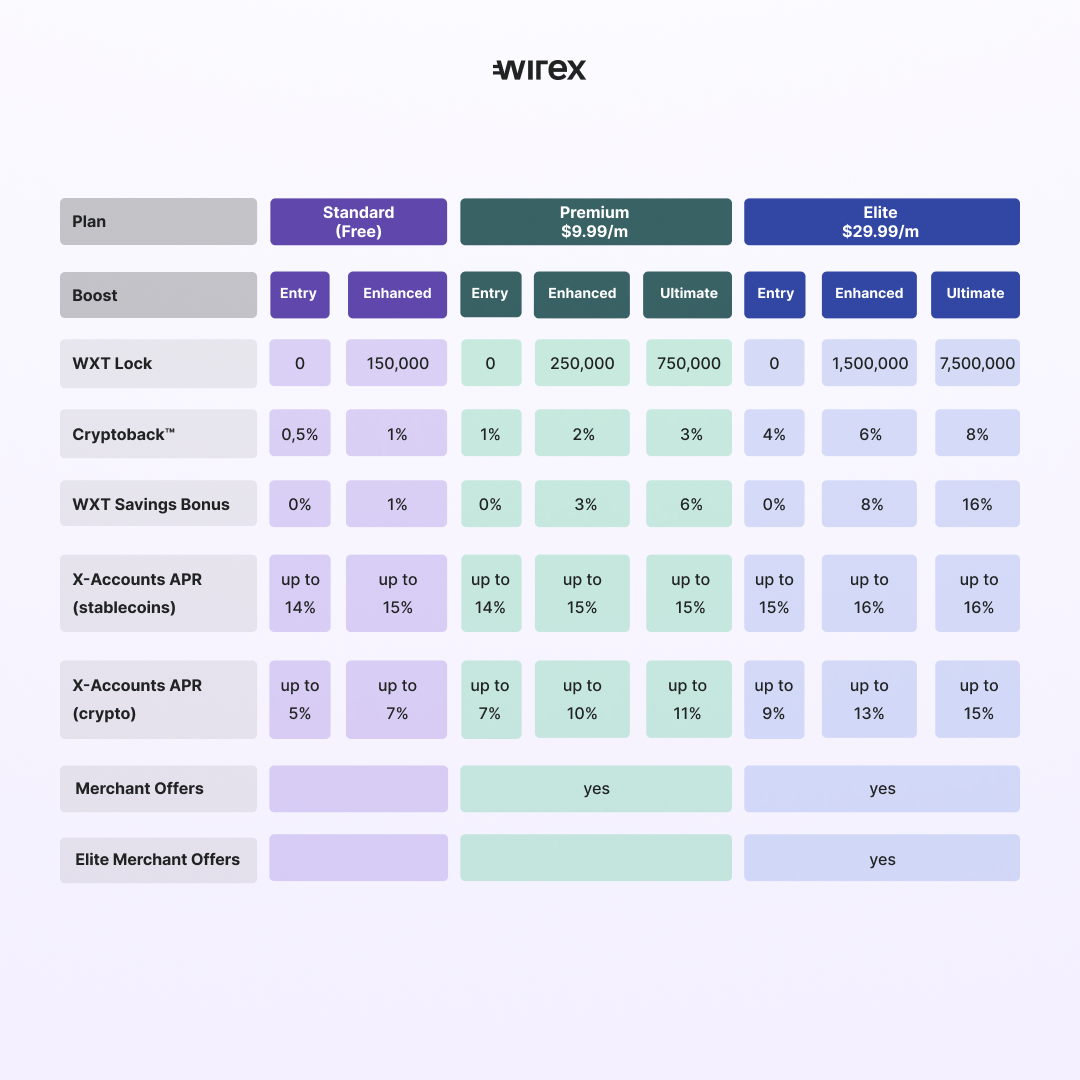 How to buy WXT with a credit/debit card
1. Tap Accounts.
2. Select your WXT currency account.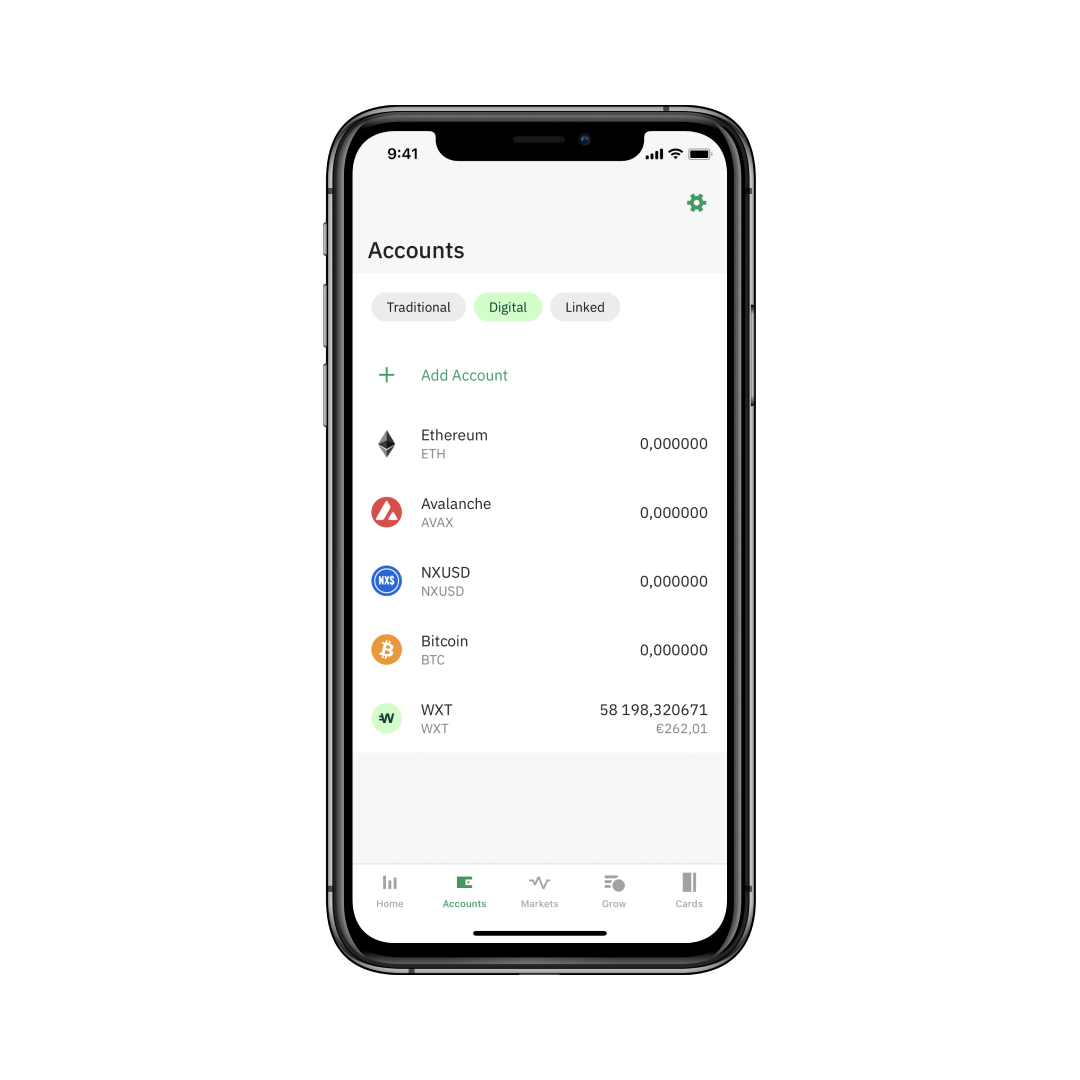 3. Tap Buy.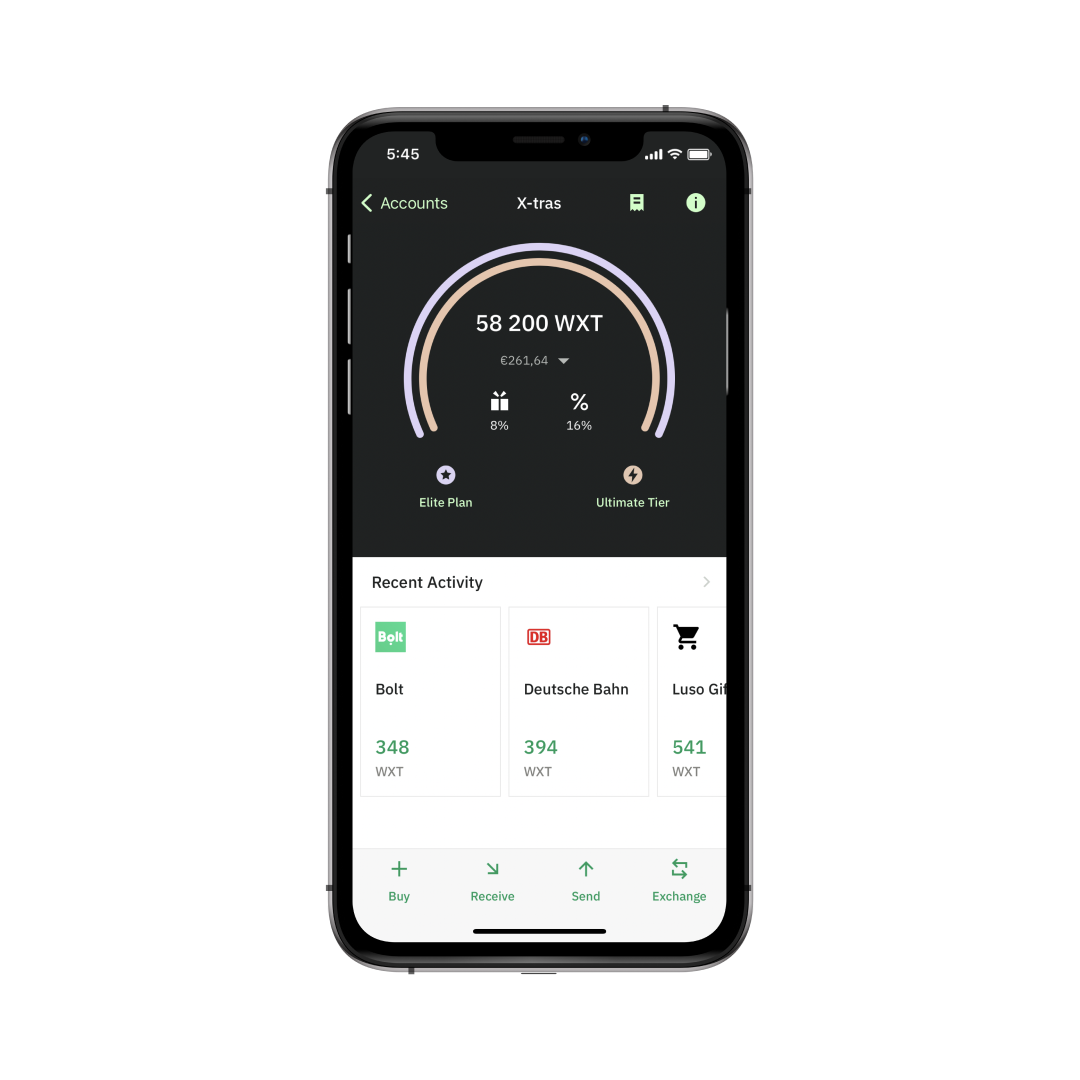 4. Use the "Add new card" option and enter your card details.
5. Enter the amount of WXT you want to buy.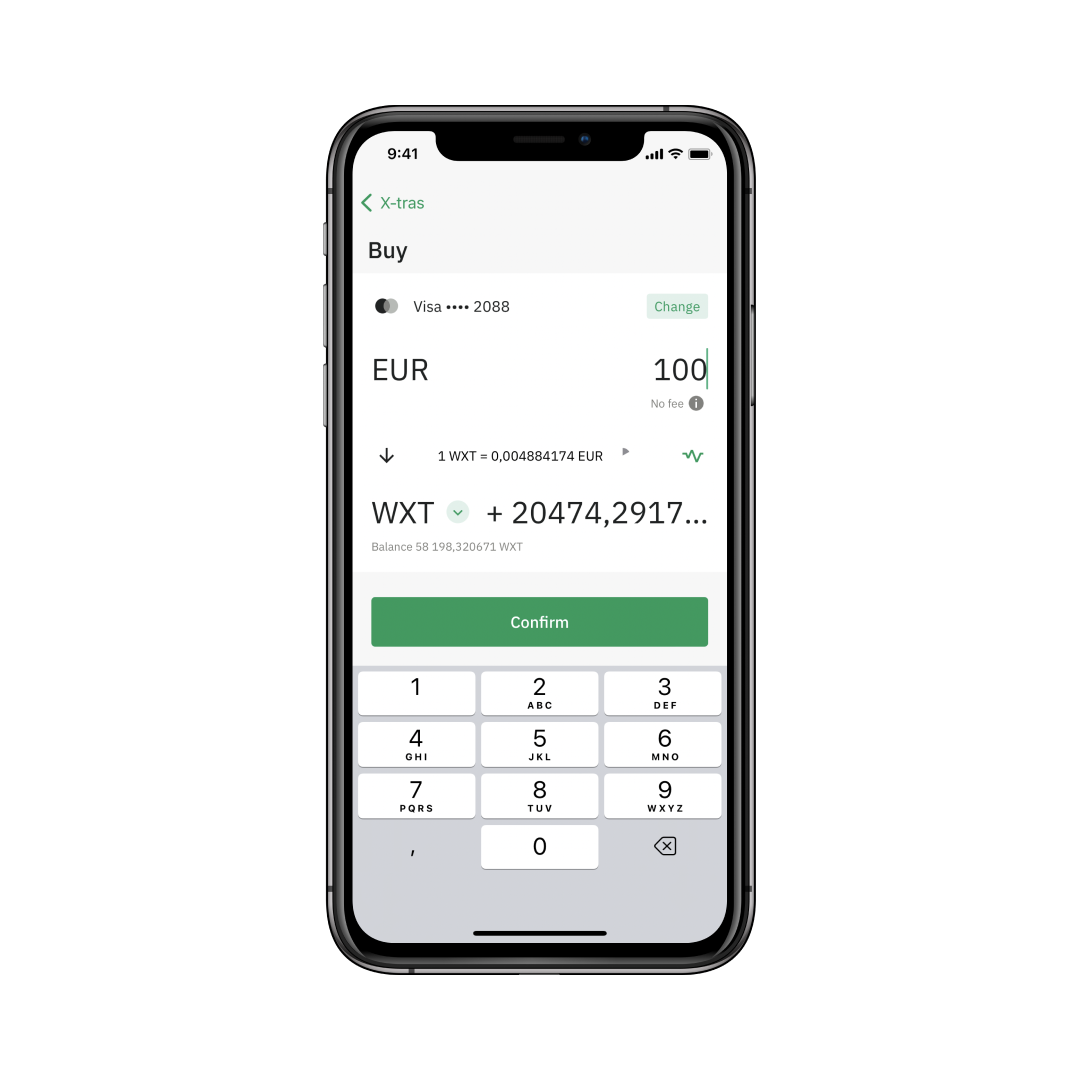 6. Tap Confirm.
Tips to Amplify Your WXT Rewards
Climb the Tiers!
Consider upgrading your X-tras plan or boost level to elevate your reward earnings. Each tier is designed with varied benefits tailored to individual needs and financial activities. By aligning with an optimal tier, you can ensure maximised earnings with every transaction within the Wirex ecosystem.
Swipe & Earn!
The Wirex card is not just for convenience but also a gateway to earning up to 8% cashback in crypto with each use. The cashback is one of the industry's most generous offers, and its cap is tier/boost dependent. Every purchase becomes an opportunity to grow your crypto assets, combining spending efficiency with financial growth.
Passive Income, Activated!
Leverage X-Accounts for an effortless income stream. Opt for the X-Account Plus to earn an extra bonus on your holdings. The differentiation between Standard and Plus offerings is significant, catering to a variety of financial preferences. Explore the specifics and benefits of each here.
Seize the Promos!
New to Wirex? Don't miss out on the limited-time DUO and Multiply promotions. These offers are a great way to get introduced to the Wirex world, highlighting the various benefits and increased earning opportunities that the platform provides.
These refined strategies are your means to maximise WXT rewards, turning every interaction and transaction into an experience that adds value to your financial journey with Wirex.
*The prices of Cryptoassets fluctuate, sometimes dramatically. The price of a Cryptoasset may move up or down and may become valueless. It is as likely that losses will be incurred rather than profit made as a result of buying and selling Cryptoassets. Crypto services are provided by Wirex Digital D.o.o (CRN 78679748084), whose registered office is Slavonska avenija 1C, Zagreb Croatia.
** Wirex X-Tras Premium and Elite plans are charged in WXT based on its equivalent fiat value. As a result, the WXT amount you are charged monthly / annually may vary depending on the market movements, but it will always equal 9.99 / 29.99 on your selected fiat currency.
*** Subject to availability of Cryptoback rewards services in your location and terms and conditions. Cryptoback rewards are not regulated in all jurisdictions Wirex offers services.
**** Crypto products, including the Wirex X-Account, Wirex Multiply and Wirex Duo can be risky for users. The value of your assets may decrease significantly and lead to a total loss, and there may be no regulatory recourse for any loss from such transactions depending on your location. Please do your research thoroughly. Subject to location of the user, the Terms and Conditions and Privacy Policy.