Crypto: The Most Unique Mother's Day Gift
Sunday 9th May is Mother's Day for many around the world, but let's be honest, most mothers deserve more than one day a year where they get to put their feet up. Not only that, but it can be difficult to find a gift that reflects just how appreciative you are of everything mum does for you. This is where crypto could be the answer, and Wirex are here to help.
We've already speculated that 2021 may be the year of crypto, but why not use this year as the opportunity to introduce your mum to the world crypto? Two of the most common (and inaccurate) stereotypes is that crypto is only for men and the younger generation. In reality, people of all ages are getting involved in crypto too, and your mum could be one of them!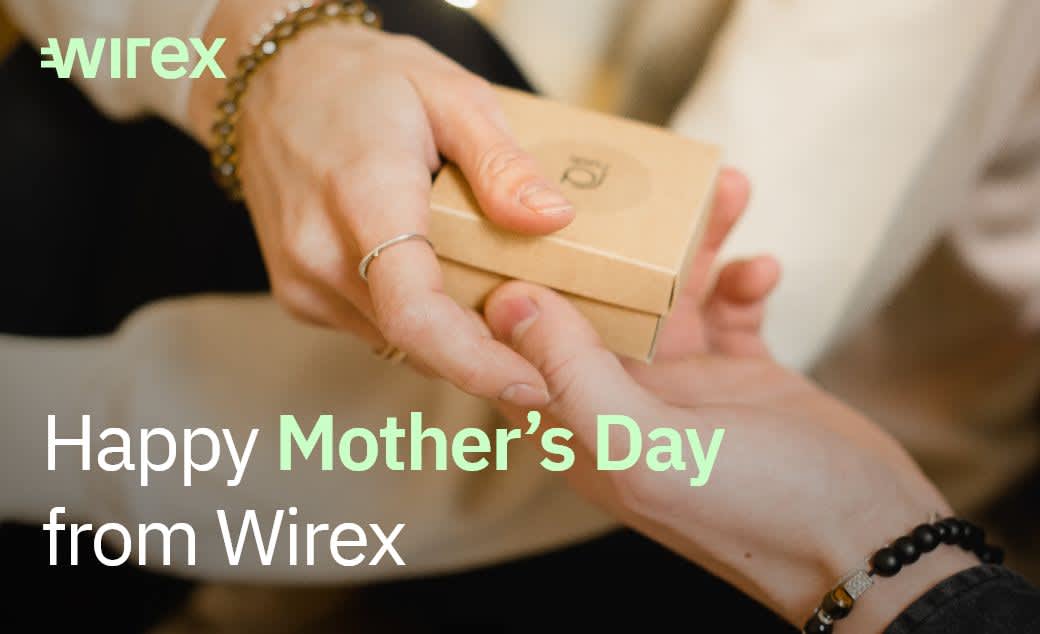 Crypto isn't just for the kids
Wirex was founded with the goal to bridge the gap between digital and traditional currencies, and part of this means tackling the stereotypes around cryptocurrencies. In December 2020 we partnered with the Stellar Development Foundation (SDF) to better understand people's attitudes towards crypto.
While we often (and maybe incorrectly) think of mums as using one finger to scroll on their phone, age really isn't a barrier when it comes to crypto! 57.2% of survey respondents were 45 years old, with 45–54 year olds being the largest age group using crypto. Perhaps one of the reasons for this is Covid.
For many young people, this is the first serious recession that has affected them, but older generations have been through this before. Many people with more disposable income began to look into crypto as an alternative method to look after their money amidst the dropping interest rates and unpredictable market.
Another common misconception is that women aren't interested in cryptocurrency, but we've already proved that's a myth. According to CoinTelegraph, the number of female users grew between 22% and 160% on the majority of crypto exchanges in 2020, and it's possible this upward trend will continue.
Crypto is often considered to be inherently volatile, but with studies showing women tend to be more risk-averse than men, and therefore make better investors, maybe your mum has the natural instincts to navigate the crypto market like a pro.
Your mum's guide to crypto
So, you've told your mum about crypto and now she's intrigued, but what does she need to know? Any new subject can be intimidating when you're just starting off, but fear not as we've put together a handy beginner's guide to crypto.
When it comes to money there's always some element of risk, but many people aren't aware that there's more to crypto than just Bitcoin. Would your mum prefer something more stable? Maybe introduce her to Dai, a stablecoin. How about a crypto which revolves around rewards and perks? Our native token WXT could be the one for her.
Crypto has become increasingly popular, and there are now somewhere between 5000-7000 different cryptocurrencies in existence, meaning there's bound to be one for everybody.
The benefits of crypto extend far beyond the security of blockchain technology. Crypto allows for quicker transactions, lower remittance fees as well as better exchange rates - and it's never been easier to get involved thanks to our handy app, where you can hold both crypto and traditional currencies.
Still not convinced your mum will love the world of crypto? We recently introduced Wirex X-tras, which is our upgraded rewards system, which comes with a ton of exciting features. Our Cryptoback™ programme was the first of its kind, and now Wirex users can earn up to 2% in WXT on any purchases made using their Wirex card. Want to know more about our exclusive Cryptoback™ programme? Here's everything you need to know.
Treat your mum with Wirex
We really do think crypto is for everyone, but if you still don't think your mum is quite ready to make the leap into the world of blockchain, it doesn't mean you can't treat her.
If you're living in the EEA and have one of our shiny new Mastercard debit cards, there's loads of deals you can check out right here, so you're bound to find something great for Mother's Day.
Living in APAC and have one of our trusty Visa travelcards? Don't fret, because we've got plenty of deals for your mum too! From flowers to books to more we've got you covered.
So happy Mother's Day to all the mums out there, and welcome to the wonderful world of crypto!