Introducing the Wirex Affiliates Program
Join Wirex's market-leading affiliate program and earn unlimited rewards for promoting our innovative crypto products
Earn up to $50 per customer and access exclusive marketing collateral
Learn more and sign up now at wirexapp.com/affiliate
We've launched our market-leading affiliate program, offering unlimited rewards to Wirex affiliates promoting new customers to use our next-gen products.
What is the Wirex affiliate program?
Our program will incentivise third parties to invite users to experience Wirex's suite of innovative features. It's one of the most competitive programs in the industry, and by expanding the Wirex community, affiliates will earn commissions for every active client you refer. We've even hired a new Affiliates Manager to manage the process and ensure clients have a great experience throughout.
In case you don't know who Wirex is, we're a payments platform with over 5.5 million customers allowing users to buy, hold, exchange and sell multiple traditional and cryptocurrencies. They can spend funds with a crypto-enabled debit card or grow their portfolio with wealth-management products.
How does the Wirex affiliate program work?
Affiliates can earn up to $50 per customer and will be rewarded for every user that signs up and uses Wirex Multiply, X-Accounts or DUO products, or makes a transaction with their debit card.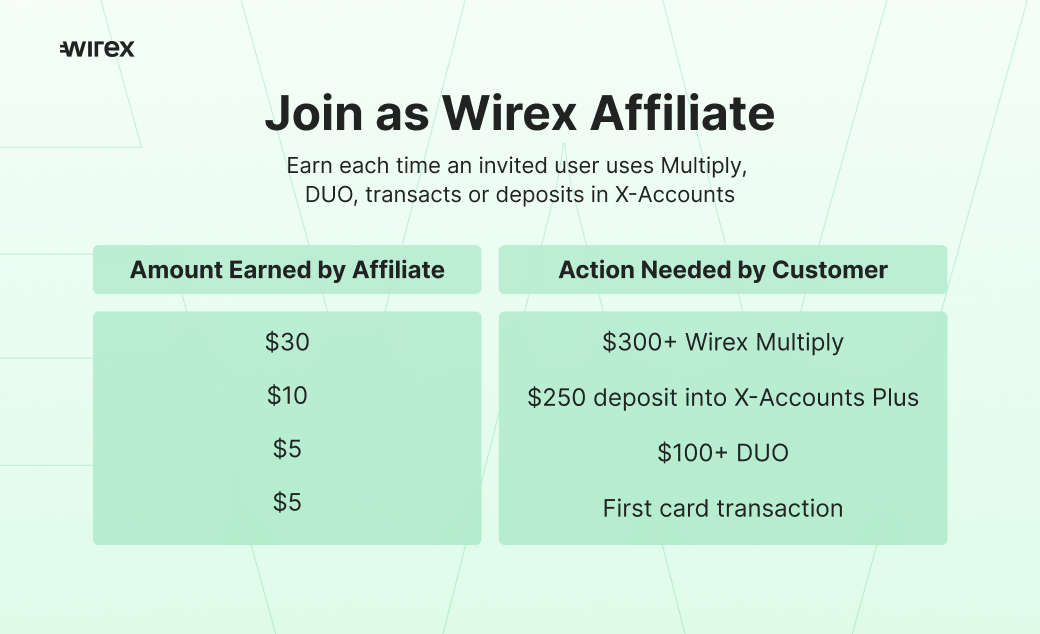 For Wirex affiliates, there is limitless earning potential, a unified dashboard to monitor earnings, dedicated support, and you'll have access to exclusive marketing collateral.
Why join our affiliate program?
Aside from earning great rewards, you'll benefit from being associated with one of the most recognised and reliable brands in crypto. Having already established successful partnerships with major brands, we became Mastercard's first ever crypto-native principal member, and ensure maximum security through Fireblocks' enterprise technology. Last month, we even signed a long-term global strategic partnership with Visa.
What does our CEO think about the news?
Pavel Matveev, CEO and Co-Founder of Wirex, commented: "We hope the affiliate program will help to empower everyone to take advantage of the benefits of crypto. Users with any risk appetite can be rewarded by depositing their funds into Wirex, whether that's to earn passive income from X-Accounts or take advantage of market volatility for high interest with DUO and Multiply."
For full details about the affiliate program and how to sign up, visit: wirexapp.com/affiliate