Winners of the Rising Women in Crypto Power List 2022 Announced
We're excited to announce the 13 winners of the 2022 Rising Women in Crypto Power List in partnership with The Cryptonomist!
We opened nominations for this year's Power List on the 15th September, inviting 232 nominations of women from the crypto space, both by themselves and from others. Now in its third year, this brings the total number of nominations to over 700, solidifying our initial goal to promote women in the crypto sector and break the stereotype that only white, younger males can get involved.
After an intense decision-making process, the five experienced female judges from the crypto sector chose who they believed to be the most outstanding women in the space. The winners were selected for their unprecedented levels of achievements, potential, influence, ambition, leadership skills and innovation, and above all else, who were considered to be a 'rising star' in crypto.
So here are the 2022 Rising Women in Crypto Power List winners (in no particular order):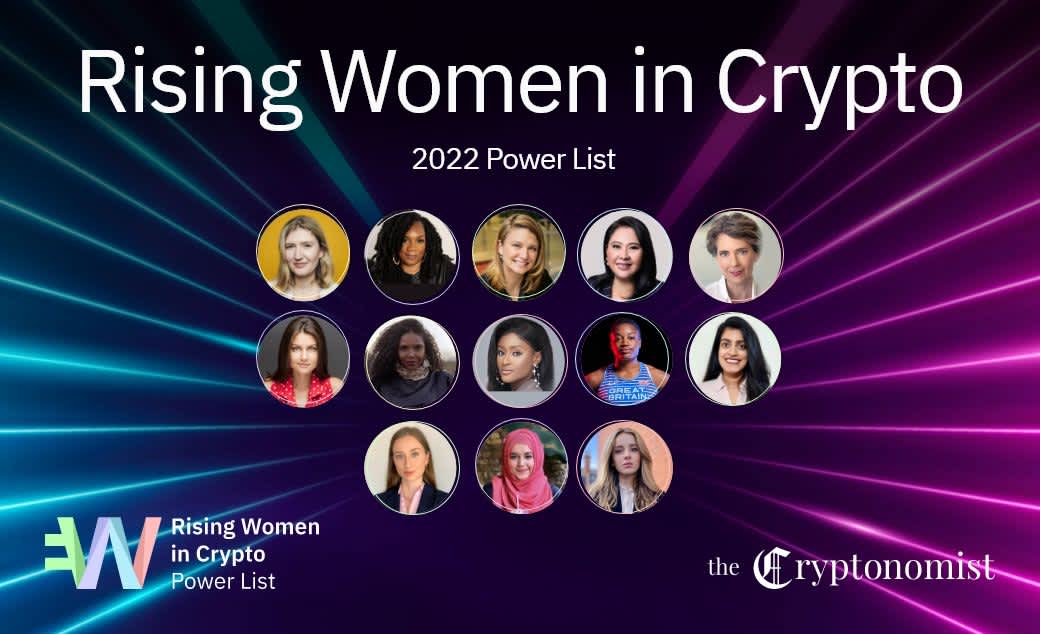 Lauren Ingram, Founder of Women of Web3
Lauren has over 11 years' experience working in marketing for agencies and tech companies such as Meta, in which she helped create #SheMeans Business, their initiative for female entrepreneurs. Despite only working in the crypto sector for around a year, Lauren has made her mark in web3 as a Marketing Consultant, and become the Founder of Women of Web3, a community helping women through jobs, resources and connections. In this role, she wears multiple hats, including hosting a podcast, helping women network to find new roles in the web3 space on their jobs board, and hosting events for likeminded women to meet in-person. She was also the host of Wirex's live Women in Crypto event.
Tavonia Evans, Founder of GuapCoin
Tavonia Evans is a "mompreneur" with a 20+ year background in technology. She is an Engineer, Designer, Data Scientist, and founded the decentralized cryptocurrency Guapcoin. Tavonia's vision is to use Guapcoin for the economic empowerment of black people and especially black-owned businesses.
Not new to the world of startups, Tavonia made the transition into the world of blockchain in 2016 after identifying crypto as a tool that could stimulate economic growth and financial freedom within the black community. She is one of the first black women heralded as being the founder and lead engineer in developing a coin with such a mission within the black community.
She was featured in Glamour Magazine's May 2018 "Women in Crypto", CNN, Complex TV, CNBC, Marie Claire, Blavity, and Ozy for her work in the space. Since 2017, she's been an expert global voice for blockchain, and has spoken on diversity and the impact of blockchain technology in a variety of forums. She's made it her mission to educate both minorities and women on the potential of crypto to liberate the masses from poverty while providing greater access to funding.
Oluchi Enebeli, Founder of Web3Ladies
Being Nigeria's first female Blockchain Engineer, she's helped a lot of ladies transition into the web3 space by founding Web3Ladies, a leading Web3 community focused on raising the next generation of female disruptors from Africa in the Web3 ecosystem by equipping them with sought-after relevant blockchain skills.
Through her initiative, Oluchi has created a community of over 10,000 African ladies desiring a community to horn their tech skills, up-skill into the Web3 space, network with like-minded ladies and share opportunities, equipping them with the technicalities needed to secure a life-changing job opportunity in the web3 space.
With Web3Ladies, she has organised three mentorship cohort programs graduating over 350 mentees already, and is currently on its verge to graduating another 200 mentees in its current cohort in blockchain development - solidity track, blockchain product design, blockchain product management and web development track. She has also been able to give out 25 work tools to support ladies in the web3space.
Over the years, she's also worked with reputable organisations like Binance and Bundle and is currently a senior smart contract engineer at Liquality.
Yasmin Johal, Financial Services Regulation Associate at CMS
Yasmin specialises in the legal and regulatory aspects of crypto. She is a tech speaker, author and advocate for increasing female & BAME representation in fintech and crypto, and co-hosts the CMS FinTech Bytes and #LeadHers podcasts. These help her highlight commercial, regulatory and technological developments within crypto and champion the work of her female-founded clients, in turn providing guidance to females across the ecosystem.
As a governor of her school academy, Yasmin works with the governing body to embed FinTech in the curriculum at the school. Yasmin has helped develop relationships with Midlands-based fintechs, and is creating a specific fintech work experience programme for students as young as 11, with a focus on crypto technology and innovation.
Finally, Yasmin has worked across the UK and US financial markets, helping deploy technological innovation, including cryptographically secured technology, and has won multiple awards for her work, with WeAreTech Women, Innovate Finance and Harrington Starr over the last few years.
Gabriella M Kusz, CEO of the Global Digital Asset and Cryptocurrency Association
In 2019, Gabriella began advising a grassroots movement of interested crypto industry professionals in advancing responsible innovation and industry stewardship. From Advisor, to Board Member to CEO, she guided the Global Digital Asset and Cryptocurrency Association to its current state: 80+ member firms representing small, medium as well as some of the largest names in the digital asset industry, 10+ policy responses and comment letters, 100+ Capitol Hill meetings and a diverse and broad group of stakeholders.
Today, the Association works to ensure inclusive, equitable and representative participation and develops standards and guidance, education and certification, and is advancing a self-regulatory approach to enhancing legal and regulatory clarity for the industry. Globally, they now hold 15+ memorandum of understandings to share knowledge and insight around the world in regards to self-regulation of the industry. In the US, they have embarked on a national dialogue on self-regulation and will bring forward what they believe may help to ensure advancement of the industry in the country in a manner that enhances market integrity and protects consumers and the public interest.
Lisa Loud, Co-Founder and CEO of FLUIDEFI
Lisa Loud is a fintech entrepreneur who believes in the power of a new decentralised financial system to provide everyone access to financial services. Lisa has used her leadership position to effect change in important fields such as financial inclusion and empowerment of women entrepreneurs worldwide. Her current mission involves accelerating decentralised finance adoption by providing innovative tools for professional investors.
FLUIDEFI INC., a company launched by Lisa in January 2021, is facilitating the movement of traditional investment capital into DeFi. Lisa's vision is to leverage the liquidity thus provided to expand access to financial tools for struggling microbusinesses in Indonesia, artisan miners in Africa, and women in the UAE.
Lisa has also led engineering, marketing, and international expansion at various fintech companies, including ShapeShift, Apple, Oracle, Intuit, and PayPal.
Irina Karagyaur, Head of Ecosystem Growth and Business Development at Unique Network
Irina works as the Head of Ecosystem Growth and Development at Unique Network, who build the latest available open-source technology in NFTs. Any person, NGO, or enterprise, can have free access and use their developments, but education about the technology is key given how new the space is, meaning Irina invests many hours a week communicating the benefits and challenges ahead.
She's a Global Ambassador of Sustainability, an initiative that operates out of the MENA region, and took part in a successful educational activity at the UN in June. She's also currently devoted to an environmental project called DigitalArt4Climate (DA4C) which is an unprecedented multi-stakeholder partnership initiative which turns art into crypto assets. These NFTs can be collected and traded, thus opening up a socio-technological innovation space which helps to unlock extraordinary potential for resource mobilisation and climate empowerment. They already showcased the DA4C NFTs collection at COP26 in Glasgow and had great feedback.
Irina is also a proactive Polkadot Head Ambassador supporting the community's growth, and Co-chair of FIBREE, where she organised webinars and articles with UCL. She has been was nominated in the Top 100 Women of the future, and as Digital Leader by Women That Build Awards.
Gail Cruz Macapagal, Counter Director of DynaQuest & Founder of Women in Blockchain Philippines
Gail is a blockchain expert that uses her knowledge to help others. She is the Country Director of DynaQuest, Founder of Women in Blockchain Philippines and Country Representative of Humanility (Philippines), a non-profit organisation dedicated to the emancipation and rehabilitation of once abandoned and abused children.
Recently, DynaQuest organised a fundraising event for these street children and Gail spearheaded the launch of the Humanility 'From Street to School Art' NFT collection in partnership with Likha and Air Media, with 76 unique, hand drawn NFTs expressing the hopes, dreams and aspirations of each child. The goal of the collection is to highlight the young artists using NFT's technology to recognise the individual creator.
Naomi Metzger, Professional Athlete & NFT Creator
After losing her sponsor as 10x British triple jump champion, Naomi created an NFT collection to support her athletics journey. Importantly, she bridged the gap between web2 and web3 by wearing NFTs on her athletics kit when she competed, onboarding her athletics peers into the community.
After noticing a disparity in opportunities and support for black creators and women in the NFT space, she has set out to make a difference through friendships, community, and authenticity, including hosting a weekly space for black women in the NFT space to share their projects and goals.
She has also hand-drawn a collection of NFTs called AfroChicks showcasing the beauty of black women's hair. She continues to carve her place in the web3 landscape by championing diversity, equity and inclusion by donating a portion of her sales to supporting unfunded athletes.
Lisa Francoeur, Chief Revenue Officer of Crypto Tutors
Lisa Francoeur is the Oprah of Tech. She is an engaging, energetic and motivational black woman dedicated to increasing crypto literacy in women and people of colour. She is the Co-Founder of Crypto Tutors, an e-learning platform creating a safe space for individuals and enterprise clients to learn about crypto from diverse tutors.
Looking for ways to bring free crypto e-learning to more people, she recognised libraries as a means to distribute crypto-literacy knowledge and skills in underserved communities. This has resulted in an ongoing project engaging hundreds of librarians to provide free crypto-literacy education to staff and library customers in neighbourhoods across the US.
Additionally, Lisa created the first of its kind annual diversity in crypto conference, Crypto For The Culture, with 1000+ women and people from diverse backgrounds attending the 2021 conference. Lisa is unafraid to lean in, stand up, speak and engage with whomever is in front of her. She leaves everyone, from bystanders on the street to members of congress smiling. She recognises the power of cryptocurrency to create generational wealth, not overnight millionaires, and is using her experience to pull those up around her.
Young Ukrainian of the Year - Valentyna Dynovska, Communication Expert at the World Smart Cities Forum
Valentyna has dedicated seven years of to serve the Ukrainian people, working in government bodies, and decided to change her life and break a stereotype that women do not understand new technologies.
When the full-scale invasion started, she was a media manager of a Ukrainian charity foundation, helping Ukrainians day and night. However, she experienced first-hand how inefficient charities can be compared to crypto-based organisations and realised she can make a difference. She joined the blockchain fund, Unchain, as a Social Media Manager, and developed the crypto telegram "Women's Crypto Guide" for Ukrainian women with 2900+ followers, creating high-quality educational content about crypto and the blockchain for newbies, as well as helping Unchain connect with those in need.
She was also actively involved in supporting the UK non-profit organisation, World Smart Cities Forum, and co-organised the Web3 Tech Forum London for Ukrainians. She invited 30 speakers, mostly high-ranking Ukrainian government officials, Web 3.0 founders and visionaries, where they informed 1000+ people about Ukrainian Web 3.0 initiatives, crypto projects and phenomena like Ukraine DAO.
Social Media Influencer of the Year - Maliha Abidi, Founder of Women Rise
Maliha Abidi is a 25-year-old Pakistan-born artist and neuroscience student that launched Women Rise, a collection of 10,000 NFTs representing the work of female activists, artists, coders and scientists. She runs the @womenrisenft Instagram page hoping to drive more girls to the tech and blockchain industries.
Abidi says governments and institutions must prioritise girls at risk of dropping out of education early, particularly those interested in STEM, if the gender digital divide is to be closed. She's been featured in The Guardian, The FemMedic and has recently published a book titled Rise: Extraordinary Women of Colour who Changed the World.
Newcomer of the Year - Leanne Holder, CEO of Giving to Services
Having worked as Head of Partnerships for just under two years, at the age of 29, Leanne was appointed CEO of Giving to Services. She uses her social media to shout about inequalities within the industry including the gender pay gap and lack of investment opportunities where possible, and leads an all-male team, inspiring females to enter the tech and crypto sector.
Giving To Services is a crypto token (SVS) and community-centric staking platform that recognises and rewards public service workers that continue to be under-compensated and undervalued within global societies. In her time within the company, she's helped over 1000 families and donated to multiple charities including providing 30 Roald Dahl specialist children's nurses to receive mental health training. The company was recently awarded the Bronze award in the Armed Forces Covenant due to supporting those in their organisation that are veterans.
She joined the Crypto Climate Accord to help with the fight against climate change, joined CryptoUK to help inform policymakers on crypto tax regulations and joined the Fintech Alliance and Fintech Founders. The company has also just started the move from ERC-20 to XRPL to ensure that they're carbon neutral and that their community have lower fees and faster transactions globally.
Congratulations again to all the winners!
We're sad to say that the announcement today concludes our 2022 Women in Crypto campaign. Thanks to everyone that has been involved along the way, including nominating people for and judging the Power List, attending or viewing, and being on the panel for our live event, 'How Web3 and the Metaverse Affects you?', and contributing to and viewing our content on the blog.
Of course, this is a year-round initiative for the women at Wirex, but we hope you'll join us again for our 2023 Women in Crypto campaign!