2020: Wirex's Year to Remember
You might remember that we said that 2019 was Wirex's year. We were wrong. 2020 has far exceeded our achievements last year, and is arguably our most successful year yet. From industry-leading partnerships and a huge crowdfunding raise, we've broken many records and made our mark in the crypto sector.
Check out our timeline of some of the pivotal moments from the last 12 months: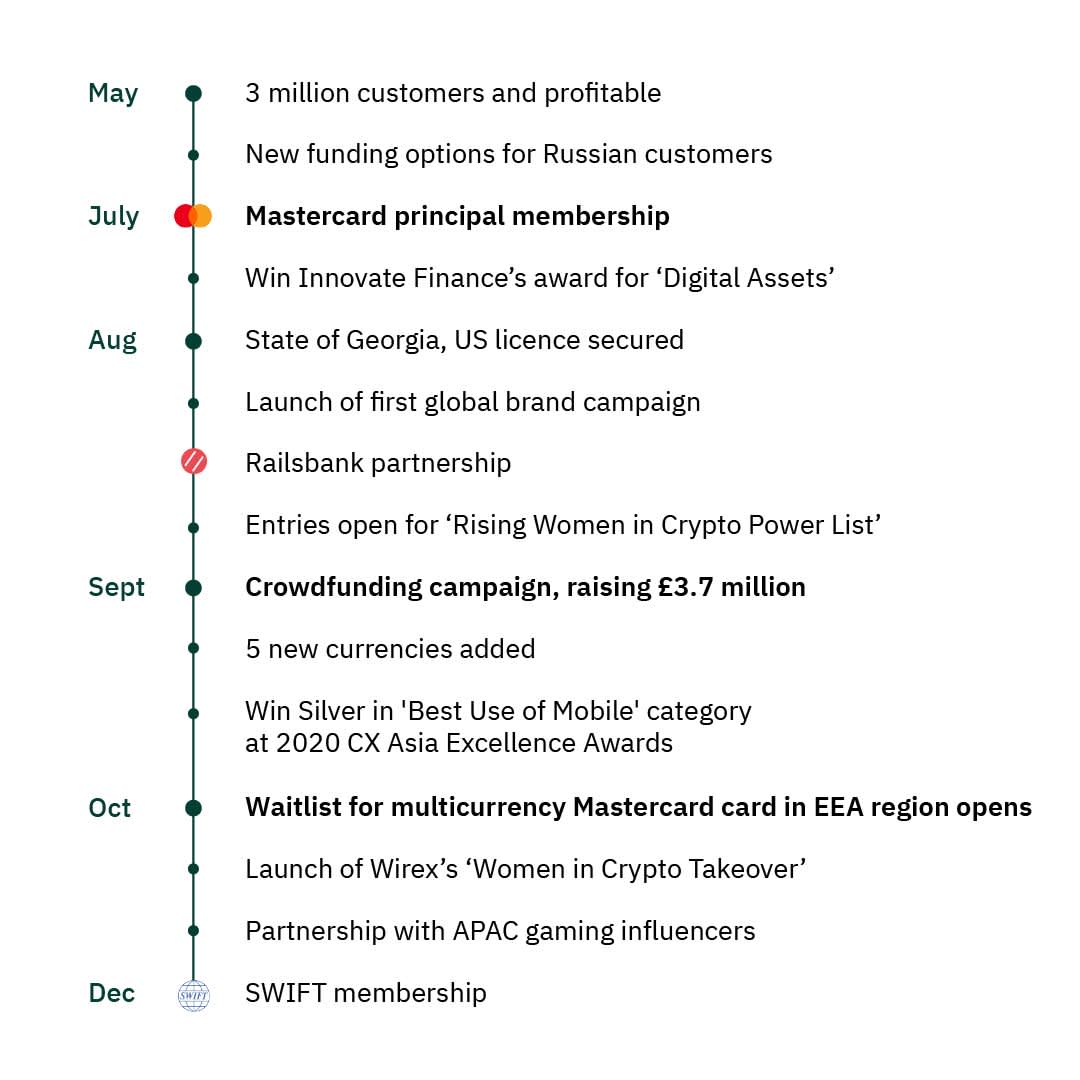 Despite the onset of COVID, our diverse product offerings meant that we continued to grow our database, and reached 3 million customers on our platform across 130 countries. We also announced that we were officially a profitable company, rare for a fintech company that was only founded in 2014, and solidifying the fact that we're here to stay!
Our quest for global expansion took a big leap in the right direction when we obtained our first money transmission licence in the US, in line with Wirex's priority to adhere to local regulations. This was granted by the State of Georgia, and will be one of the first states that we launch in during our initial launch to the US in January!
As our customer base grew rapidly in APAC, we partnered with a new renowned banking platform, Railsbank, to help issue cards to the region. It was a seamless migration process that didn't affect customers, allowing us to continue providing our industry-leading services there.
Probably our biggest news to date, helping to solidify the fact that we're bringing crypto to a mainstream audience, is the announcement that we were Mastercard's first crypto-native principal member. This enabled us to start issuing cards ourselves, with which we have developed a new multicurrency Mastercard debit card for customers in the EEA region, offering the spend up to 19 traditional and cryptocurrencies in-store, free international ATM withdrawals, the best in-market rates, and no monthly fee. We currently have a waitlist open to give customers the chance to be the first to receive this exciting new product, and can't wait to launch this early next year.
We undertook our first ever crowdfunding campaign with the aim of raising £1 million. We smashed this target in just 90 minutes, being pushed into overfunding which saw us raise an incredible £3.7 million in total! This made us the most successful crypto company to undertake a crowdfunding campaign with Crowdcube ever. The funds allowed the 7000+ investors from 94 countries to grab a piece of Wirex before we scale-up. We've big plans for the funds raised, so watch this space...
We partnered with leading payment solutions company, LHV, to offer a host of benefits for our customers. This included the addition of 5 new currencies on our platform: Croatian Kuna (HRK), Czech Koruna (CZK), Polish Złoty (PLN), Romanian Leu (RON) and Hungarian Forint (HUF), allowing customers in these countries to top-up their Wirex accounts for free using their local currency card. Not only this, but it enabled us to offer free multicurrency individual IBANs, free SEPA multicurrency transfers and SEPA instant for EUR transfers, and the removal of foreign exchange fees.
From August to November, we hosted our biggest brand campaign yet, 'Women in Crypto', supporting an initiative that's very close to our hearts here at Wirex. Throughout this time, we worked with influential females at Wirex and around the fintech and crypto industries, to share brand new, thought-provoking content that we hoped would inspire the next-generation of crypto pioneers. We also selected the top 10 'Rising Women in Crypto', after receiving an incredible 367 nominations of inspirational women taking the crypto industry by storm. It's been an incredible initiative that we can't wait to continue for years to come.
To top off a great year, and just before Bitcoin hit an all-time high, we've been awarded Visa's coveted principal membership. We've had a long-standing relationship with Visa, having worked with them to develop the first crypto-enabled debit card, way back in 2014, and more recently, have successfully completed their Fintech Fast Track Programme. The membership will allow us to issue cards ourselves, offer new innovative products, and apply for more licences around the globe, and is another great step in working with global leaders in the fintech space to enable cryptocurrency adoption.
A Look into 2021
The exciting news doesn't stop there, and we've got an even bigger and better 2021 lined up. We're on a mission to reach 10 million customers by the end of next year, and we hope to achieve much of this with our planned expansions in the US from January, and Japan later in the year. You might have already joined our waitlist for it, but we'll be releasing our highly-anticipated multicurrency Mastercard debit card in the EEA region in the next few months, bound to change the way people think about cryptocurrency. Finally, we'll be rolling out an overhaul of our Rewards program, including enhanced Cryptoback™ rewards and interest on WXT balances, as well as earning pots, all of which will help users save their hard-earned money in the new year.
If you're not already eagerly waiting for 2021 to arrive, we hope this gets you a little more excited!